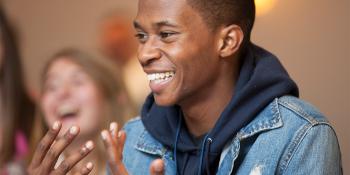 Act! Speak! Build! Week
Habitat for Humanity's annual youth advocacy event
As Habitat's student-initiated, international advocacy campaign, Act! Speak! Build! Week empowers young people to educate themselves and their communities and move people to social action.
Act! Speak! Build! Week goes beyond the build site as volunteers advocate for decent, affordable shelter by engaging elected officials and their community to help shape policy in a way that supports people in need of safe, healthy and affordable housing.
Building and advocating are needed to help the one out of four people around the world who currently live in poor housing conditions build better lives for themselves and their families. Act! Speak! Build! Week serves to educate others by expanding the scope of Habitat's mission from raising a hammer and raising funds to include raising your voice.
Become an advocate
Act: Become an online advocate with Habitat for Humanity and learn about the issues related to poor housing conditions.
Speak: Challenge peers to become advocates through Act! Speak! Build Week events and partner with your local Habitat for Humanity to provide a true understanding of how Habitat partners with families in your community and in other countries.
Build: Build awareness in your community about poor living conditions through events that engage local officials, such as scheduling visits with local representatives about housing issues, letter-writing and phone call campaigns to U.S. representatives.
Act! Speak! Build! Week 2023
Act! Speak! Build! Week 2023 takes place April 9-15 and this year's theme is Cost of Home: Housing Affordability. 
Register to participate in Act! Speak! Build! Week 2023 and receive your digital action kit!
Register to participate and get your digital action kit!
First-time participants
If you are planning to participate in Act! Speak! Build! Week, here are some key points to implement a successful event.
Make sure to register to receive an action toolkit to help plan your week.
Contact your area Habitat to let them know you are participating. They can help share more information locally and help support your events.
Stay focused: The goal of Act! Speak! Build! Week is about raising awareness and taking action on issues related to housing in your community and around the world.
Leading up to Act! Speak! Build! Week, make sure your core group learns about the advocacy issue. More information can be found in your online resource packet after you register.
Sample week
One week before: Make sure your advertising plan goes into full swing. Create a graphic with all your events throughout the week and ask people to share it with others or groups they know.
Monday: Get the word out. Let folks know what you're doing for Act! Speak! Build! Week. Encourage group members to post about events on social media to make sure people know what you are doing.
Tuesday: Host a virtual panel discussion or documentary viewing to educate people about affordable housing.
Wednesday: Host a large activity online like a video game competition and make sure those participating are aware of the work Habitat for Humanity does.
Thursday: Organize an event to do a virtual visit with your local representative's office with your local Habitat.
Friday: Work with your local Habitat to volunteer virtually with local elected officials.
These are just some suggestions. Take on what activities you feel comfortable with. More recommendations can be found in the online action toolkit you receive once you sign up.
Follow us online
Youth Programs e-newsletter
Stay in touch with all the latest Habitat for Humanity news and volunteer opportunities for youth. Sign up for our e-newsletter today.