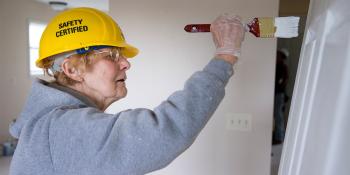 How to register for an RV Care-A-Vanner build
Find out how to register for an RV Care-A-Vanner build, what the registration rules are, how our waitlists work, how cancellations are handled, what to do after you've registered for a build and where to look for ongoing builds. 
How to register for an RV Care-A-Vanner build
Select a build from the RV Care-A-Vanners builds list.
Click on individual builds to read further details about each opportunity. At the bottom of each detailed build information page is a link that allows you to immediately register for the build. First-time participants will need to create a username and password that will be needed each time you register for a build.
If you have problems or questions, please call 1-800-422-4828, ext. 7534, or email 

[email protected]

, to contact an RV Care-A-Vanner coordinator. Be sure to include the spelling of your last name and your zip code in phone or email messages.
Registration rules
Participation is on a first-come, first-serve basis.
Each RV Care-A-Vanner volunteer may register for his or her RV only.
Do not attend an RV Care-A-Vanner build unless you have confirmation for that build by the RV coordinator and have received the build information packet from the team leader.
After you are registered for a build
Approximately six weeks before a build, the team leader will send an information packet via email to all registered participants. The information packet will contain directions, parking arrangements, contact information and additional details about the build. If you are a registered participant and have not received an information packet four weeks prior to your build, contact the RV coordinator.
Cancellations
If you must withdraw from a build before it starts, notify the RV Care-A-Vanner coordinator right away so a replacement can be contacted.
Waitlist
If the build you want to join is full, you can register online to be placed on the waitlist. If a cancellation occurs, Habitat for Humanity International will contact the first name on the waitlist to fill the vacancy. It is not uncommon for the first few names on the waitlist to end up being invited to the build. If you are on a waitlist and change your mind, please ask the RV coordinator to remove your name from the list.
Ongoing builds
To join an ongoing build — where affiliates continuously use and accommodate RV Care-A-Vanners — check our online list of available ongoing builds. For these builds, contact the affiliate directly to confirm your trip with them.