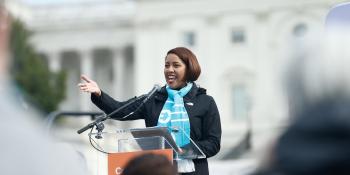 U.S. advocacy
Advocating for policy and systems change at the local, state and federal levels
Your advocacy to increase access to stable, affordable housing is needed now more than ever. The significant impacts of the COVID-19 pandemic and its economic fallout are still unfolding and the number of families struggling to make ends meet continues to grow.
When you advocate with Habitat for Humanity, you're helping to change systems and policies in the U.S., and you're working alongside people in your community and across the nation who care passionately about creating affordable homes and stronger communities. In places where smart rules and regulations about land and building are established, there is more access to safe, affordable housing. In other places, where policies and systems are weak, there can be barriers to finding land suitable for building a home, building the home itself or ensuring that the home is affordable.
Habitat is uniquely positioned to influence policies and systems. In addition to our direct construction and renovation work in partnership with families in need of decent and affordable shelter, we have the ability – and, now more than ever, the responsibility – to promote concrete, practical public policy housing solutions, ensuring that more families can find appropriate, quality, affordable housing across the U.S.
In 2019, we launched a five-year campaign to mobilize local Habitat organizations, partners, volunteers and community members across the country. Through our Cost of Home campaign, we are finding the solutions and helping to create the policies that will allow 10 million individuals to have access to stable, affordable homes.
Contact us
General inquiries: [email protected]
Habitat for Humanity International
Government Relations and Advocacy
1310 L Street NW, Suite 350
Washington, D.C. 20005