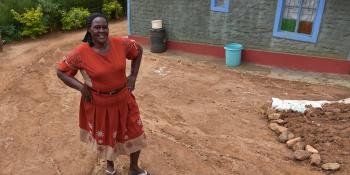 independent women
in Kenya and Uganda
Every woman deserves the right to build her own house on her own land.

In Kenya and Uganda, as well as in many countries in Africa, Asia and Latin America, this is not easily achievable. Gender inequality creates obstacles for many women who want to build their houses and earn an independent living.

Land rights are a foundation for a decent life. Watch our short videos about women, who have managed to overcome local customs and traditions and built their own simple and decent homes.
Jane and her house

Jane Mueni Paul from Kenya is working at the school canteen and runs her own business selling seeds. She took two affordable microloans and built her own house in 2016.

Joy and her business

Langton's family from Uganda has taken a loan to buy their own land. Then, the family took a loan to build their house. Now, they have taken another load to develop their own small business. Joy Kafuuama, Langton's wife, is getting ready to open her day-care school for top class, middle class, and baby class.