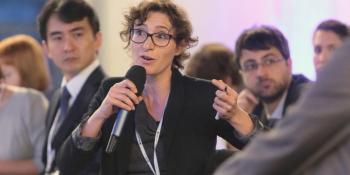 Advocacy resources
Europe, Middle East and Africa
Affordable Housing in Central and Eastern Europe
Residential energy efficiency and energy poverty
Policy papers
Making no distinction between developed and developing countries, the COVID 19 pandemic has hit the world hard. Pre-existing and systemic inequalities have been exacerbated by the pandemic, and disparities in health care, access to resources, and concerning stability, have been made clear. 

Developing countries, and in particular their most vulnerable populations, are likely to be affected most negatively. This Discussion Brief focuses on these countries and makes the case for the crucial role of housing - in all its manifestations - in the post pandemic recovery efforts.
This brief discusses tenure security and makes a distinction between tenure, security of tenure, property rights and title. This is important to the extent that it enables an exploration of a range of tenure typologies, recognises the importance of tenure security, and explores the nuances in the term "property rights".

This brief demonstrates that tenure can be placed across a spectrum that is fluid, and that tenure types are varied and emerge in complex environments This is important to recognise because in a developmental context these terms take on a particular significance and challenge prevailing approaches, thereby opening avenues for exploring how to address tenure in particular contexts. Different strategies, approaches and measures can then be explored for creating an enabling environment for ensuring enhanced tenure security that is applicable in a particular context.
SDG resources
This guide is intended to serve as a useful resource for better understanding the transformational impact of housing on the 2030 Agenda for Sustainable Development. It can be a tool for housing practitioners and sustainable development experts alike, helping them fill in their r espective knowledge gaps. It is also a starting point for action, research and analysis for measuring housing impact through the SDGs' monitoring framework of targets and indicators.
This report gives an overview of the global effort toward achieving SDG 11, which seeks to "Make cities and human settlements inclusive, safe, resilient and sustainable," focusing on Target 11.1 — "By 2030, ensure access for all to adequate, safe and affordable housing and basic services and upgrade slums" — and the Indicator 11.1.1: "Proportion of urban population living in slums, informal settlements or inadequate housing."

This report relies on desk research and a review of literature from online sources and reports by U.N. agencies, multilateral bodies and civil society, including UN-HABITAT, Cities Alliance, U.N. Environment Programme, U.N. Development Programme, World Bank, Voluntary National Reviews and Voluntary Local Reviews, mainly from 2018 to 2020. The consequences of the COVID-19 pandemic for Target 11.1 are not considered in the analyses of this report.
Advocacy webinar series
Habitat for Humanity International organized a series of 3 online webinars as part of Build Solid Ground Project funded by the EU (March 18, 2021).

Third and final online discussion focused on the implementation of SDGs relevant to the housing and urban renewal sector in Africa, and respective bottlenecks and opportunities brought in by the Decade of Action. According to the speakers SDG target 11.1 is one of only five targets regressing out of the 169 SDG targets, even though it is interlinked with all SDGs. The COVID-19 pandemic aggravated pre-existing inequalities, but we can now turn a crisis into an opportunity by recognizing the value system of housing. By recognizing the complexity of the housing ecosystem and adapting integrated approaches, we can ensure that the Decade of Action can effectively deliver on the SDGs.
Shelter reports
Affordably priced homes are constantly lost in the United States. This can happen because of a sudden catastrophe like the Great Recession of 2007-09, which plunged millions of homes into foreclosure. More often it happens because of relentless appreciation in the value of local land and housing, pushing rents and prices beyond the reach of people of modest means.