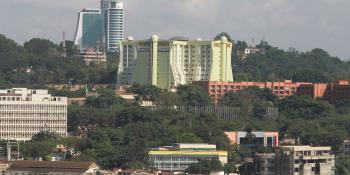 Project "BRACED" Land Regularization Article on The Effectiveness of Land Information System Written By: Kenneth A Shay II
BRATISLAVA (May 23, 2018) - Nadacia Habitat for Humanity, a Slovak office of the global housing organization, is launching a new project – Build Solid Ground – to highlight existing land and housing problems and inspire city authorities, governments and citizens to work together to find solutions to urban challenges in both developed and developing countries. This work will be carried out by a consortium of 14 nonprofit organizations in seven countries in Europe over a period of three years with the funding from the European Union.
Due to an unprecedented rate of urbanization, cities are facing the challenge of absorbing new residents quickly and without widening the existing social gaps. Currently, 50 percent of the world`s population lives in cities and this number is growing. Yet, if urban development is handled well, urbanization can become a powerful force that can stimulate economic growth. 
"A lack of resources, climate change or conflicts in many parts of the world force people to look for safety and well-being in the cities. Currently the rate of urbanization outpaces the rate at which good quality housing is being constructed. Even in smaller cities of Europe where the pressure of urbanization is not so obvious, the situation might change,' says Katerina Bezgachina from Nadacia Habitat for Humanity who leads the project work. 
"We believe that intelligent urban planning that reflects both the needs of the inhabitants and current critical problems could connect the best minds the cities have," she adds. 
Urban Development: Building Cities for All
The project starts with a public discussion Urban Development: Building Cities for All on how the cities of the future should look. It takes place on Wednesday, May 23, 2018, at the European Information Center in Bratislava, Slovakia. Elena Szolgayova from the Slovak Ministry of Transport and Construction, Matus Vallo, an activist and architect, and Mathabo Makuta, a former government official and head of a nonprofit housing organization from Lesotho will discuss how to combine innovative technology with effective policy-making as well as how cities in Europe and Africa can exchange knowledge on urban planning. 
This discussion is organized by Nadacia Habitat for Humanity and the media platform Euractiv.sk.
Building Solid Ground
The project will offer a series of further events on urban development topics, including land and property, gender, slum upgrading, responding to climate change and migration both in Europe and in some countries in Africa. Through organized conferences, discussions, contests and online portals, people will learn more about development and actively contribute to solving the most pressing issues cities are facing. As part of knowledge exchange, policy makers, urban activists and city authorities from African countries will visit Slovakia and other countries in Europe. 
To learn more about the project, please contacts us at 

[email protected]

.
This page is created and maintained with the financial support of the European Union. Its contents are the sole responsibility of Habitat for Humanity Europe, Middle East and Africa and do not necessarily reflect the views of the European Union.