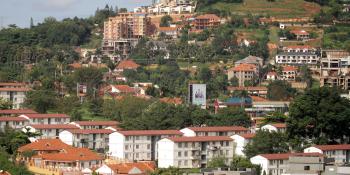 building cities for all
panel discussion
What will the cities look like in the future? We will discuss how we can shape them together at the panel discussion:
It will take place on 23 May 2018 at 10 am CET at the European Information Center in Bratislava, Slovakia. 
Our panelists and expert audience will discuss these questions:
How to combine quality policy making processes with innovative approaches from architecture, urban planning and technology?
What are the best practices in place?
How can Europe and Africa exchange knowledge and experience?
The panelists are:
Mathabo Makuta, Habitat for Humanity, Lesotho
Elena Szolgayova, Ministry of Transport and Construction of the Slovak Republic
Matus Vallo, Activist and Architect, Slovakia
Why are we organizing the discussion?
Lack of resources, climate change or conflicts in the rural areas of the global south force people to look for safety and well-being in the cities. Currently the rate of urbanization outpaces the demand for decent housing. Cities need to absorb new residents fast without further widening the existing social gaps and spreading slum areas. We believe that intelligent urban planning that reflects both the needs of the inhabitants and current critical problems could connect the best minds the cities have. Citizens, companies, nonprofits, inventors and governments can search for solutions together and build cities where everyone will have equal opportunities to live a decent life. Read more in the article: Cities for everyone.
The discussion is organized by Habitat for Humanity and Euractiv.sk within the project Build Solid Ground. 
This page is created and maintained with the financial support of the European Union. Its contents are the sole responsibility of Habitat for Humanity Europe, Middle East and Africa and do not necessarily reflect the views of the European Union.