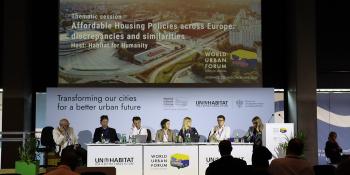 Habitat highlights adequate housing urgency at the 11th World Urban Forum
At the end of June, Habitat for Humanity International participated in the 11th World Urban Forum (WUF), the UN's leading global conference on sustainable urbanization. It was the first time that the WUF took place in Eastern Europe, more precisely in Katowice in the South of Poland. Co-organized by UN-Habitat, Poland's Ministry of Development Funds and Regional Policy as well as the Municipal Office of Katowice, the event attracted over 17,000 people from 155 countries.
Our Habitat for Humanity International delegation was strong of 37 representatives coming from 13 countries and four continents. With affordable housing high on the WUF's agenda, the gathering was an excellent opportunity to showcase the efforts made in the Central and Eastern Region on topics related to rapid urbanization and its impact on communities.
In total, we organized and participated in over 15 sessions, in partnership with UN Habitat, UNECE, UNICEF, Housing Europe, MOBA, World Habitat and Habitat Poland. We addressed issues of residential energy efficiency, people-led housing solutions and affordable housing in Europe from an NGO and academia perspective, with a focus on housing for vulnerable groups in the CEE region. We showcased the winning best practices, policies and shelter technologies from the Innovation Awards in Asia-Pacific, Africa, Europe and Latin America and the Caribbean regions.
"Increasing equitable access to adequate and affordable housing, while frequently seen as solely a local or national responsibility, is also a global priority. Global agreements, including the UN Sustainable Development Goals and the New Urban Agenda, raise the importance of housing as a key input for sustainable development," said Patrick Canagasingham, chief operating officer at Habitat for Humanity International, ahead of the Forum.
According to the UN, more than 1.6 billion people lack adequate housing, including 1 billion people living in informal settlements and slums, approximately 350 million to 500 million of whom are children. With UNICEF, Habitat launched a report that examines the challenges children in urban areas face because of poverty and the inadequacy of their housing. The paper discusses strategies to better realize children's rights as enshrined in the UN Convention on the Rights of the Child to enable a sustainable future for not just children but all humanity.
The next World Urban Forum will take place in Cairo, Egypt, in January 2024.
About Habitat for Humanity International
Driven by the vision that everyone needs a decent place to live, Habitat for Humanity found its earliest inspirations as a grassroots movement on an interracial community farm in South Georgia. Since its founding in 1976, the Christian housing organization has grown to become a leading global nonprofit working in local communities across all 50 states in the U.S. and in more than 70 countries. Families and individuals in need of a hand up partner with Habitat for Humanity to build or improve a place they can call home. Habitat homeowners help build their own homes alongside volunteers and pay an affordable mortgage. Through financial support, volunteering or adding a voice to support affordable housing, everyone can help families achieve the strength, stability and self-reliance they need to build better lives for themselves. Through shelter, we empower.