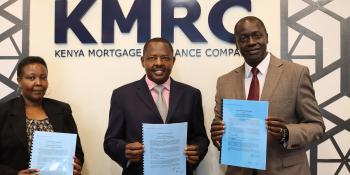 Kenya Mortgage Refinance Company partners with Habitat for Humanity International to conduct research on barriers to housing finance in Kenya
Nairobi (September 08, 2022) – Kenya Mortgage Refinance Company (KMRC) has signed a memorandum of understanding with Habitat for Humanity International to partner in research that will identify systemic barriers preventing access of housing finance in Kenya.
The study will entail a holistic assessment of the housing finance market with a view to identifying the demand and supply side needs, challenges, opportunities, and an assessment of the solutions available to promote affordable housing finance in Kenya. The study will also review existing laws, regulations and policies that support or hinder affordable housing finance. The findings of the research will inform the short, medium, and long-term plans by the various stakeholders in the housing sector value chain, with expected positive transformation in uptake of affordable housing.
"The role of KMRC is to enhance availability of affordable home loans to Kenyans and particularly the moderate to low-income earners. Continuous research and advocacy to unlock barriers in the affordable housing sector is key to us. We are happy to partner with such like-minded institutions and build on existing research in order to continuously identify and address evolving challenges in this sector," said KMRC's Chief Executive Officer & MD, Mr. Johnstone Oltetia.
The research will be coordinated under Habitat for Humanity's Terwilliger Center for Innovation in Shelter (HFHI-TCIS) which will provide Technical Assistance and will incorporate contributions from the Association of Microfinance Institutions of Kenya (AMFI- K).
"Habitat for Humanity International exists to empower communities to overcome the chronic lack of decent housing through solutions that make adequate housing accessible and affordable for all. The signing of this MoU marks a major milestone in our drive towards decent and affordable housing for all. Together with KMRC, we share a commitment to expanding access to home ownership for all families. This new collaboration will be instrumental in unlocking new housing finance opportunities for low-income families in Kenya," said Maurice Makoloo, vice president, Africa – Habitat for Humanity International.
About KMRC
Established in April 2018 as a Public-Private Partnership (PPP), under the supervision of the Central Bank of Kenya (CBK), Kenya Mortgage Refinance Company's role is to provide long-term funds to primary mortgage lenders (Banks, Micro Finance Banks and Saccos) in order to increase the availability of affordable home loans to Kenyans by providing low interest, fixed rate, long term finance to mortgage financiers so that they can transfer the same benefits to individual borrowers, making home loans more accessible and affordable for Kenyans. A wholesale institution, KMRC also aims at contributing to the growth of Kenyan capital markets through the issuance of corporate bonds as a source of sustainable long-term funds, assisting in the standardization of mortgage practices in Kenya through enhanced capacity building to member institutions on the origination of mortgages and contributing to the growth of the mortgage market in Kenya through support to Primary Mortgage Lenders. Additional information may be found at www.kmrc.co.ke
About Habitat for Humanity International
Driven by the vision that everyone needs a decent place to live, Habitat for Humanity began in 1976 as a grassroots effort and has since grown to become a leading global nonprofit housing organisation working in more than 70 countries, nine of them in Africa. Through financial support, volunteering or adding a voice to support affordable housing, everyone can help families achieve the strength, stability and self-reliance they need to build better lives for themselves. To learn more, donate or volunteer, visit habitat.org/Africa 
About Habitat's Terwilliger Center for Innovation in Shelter
The Terwilliger Center for Innovation in Shelter, a unit of Habitat for Humanity International, works with housing market systems by supporting local firms and expanding innovative and client-responsive services, products and financing so that households can improve their shelter more effectively and efficiently. The ultimate goal of the Terwilliger Center's market systems program is to make housing markets work more effectively for people in need of decent, affordable shelter, thereby improving the quality of life for low-income households. To learn more, visit habitat.org/tcis