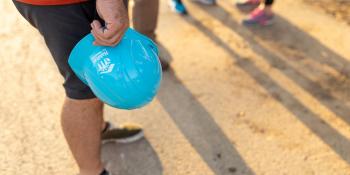 ArcelorMittal Construction enters a decade-long partnership with Habitat for Humanity International
BRATISLAVA (Jan. 30, 2023) — ArcelorMittal Construction, manufacturer of lightweight steel building systems, announced a ten-year partnership with Habitat for Humanity International, a nonprofit organization that helps families build and improve places to call home.
The partnership will include product donations and financial support for Habitat's various projects in Europe, as well as sharing ArcelorMittal Construction's technical expertise when it comes to construction to help low-income families access healthier, safer and more sustainable homes.
"We are glad to have found with Habitat for Humanity a sustainable partner who we can support with our products and technical expertise to build affordable housing for communities as well as improve infrastructure. Establishing strategic partnerships with organizations such as Habitat for Humanity International is one of the five axes in ArcelorMittal Construction's sustainability strategy. The partnership also gives our employees the opportunity to get involved by volunteering to work on environmental improvement projects" said Jean Christophe Kennel, CEO of ArcelorMittal Construction.
Some of the projects explored as part of the partnership focus on scaling up Habitat's work on residential energy efficiency in Central and Eastern European countries. Working with local communities, Habitat aims to improve the energy performance of the built environment, decrease energy costs impacting low-income families, alleviate energy poverty and increase the limited affordable housing stock across Europe.
Along with providing affordable and energy-resilient housing solutions, the partnership will explore supporting community centers, social housing units and facilities employing vulnerable and disadvantaged individuals.
"We are very grateful for partnerships with socially responsible companies such as ArcelorMittal Construction, with strong commitment to the UN Sustainable Development Goals," said Rick Hathaway, Habitat's vice president for Europe and the Middle East. "We have an array of projects in the pipeline across the region, and we're excited about the opportunities created by this partnership, which will allow us to reach and support more families in need of decent shelter."
About Habitat for Humanity
Driven by the vision that everyone needs a decent place to live, Habitat for Humanity began in 1976 as a grassroots effort on a community farm in southern Georgia. The Christian housing organization has since grown to become a leading global nonprofit working in local communities across all 50 states in the U.S. and in more than 70 countries. Families and individuals in need of a hand partner up with Habitat for Humanity to build or improve a place they can call home. Habitat homeowners help build their own homes alongside volunteers and pay an affordable mortgage. Through financial support, volunteering or adding a voice to support affordable housing, everyone can help families achieve the strength, stability and self-reliance they need to build better lives for themselves. Through shelter, we empower. To learn more, visit habitat.org.
About ArcelorMittal
ArcelorMittal is the world's leading steel and mining company, with a presence in 60 countries and primary steelmaking facilities in 16 countries. In 2021, ArcelorMittal had revenues of $76.6 billion and crude steel production of 69.1 million metric tonnes, while iron ore production reached 50.9 million metric tonnes. The company's purpose is to produce ever smarter steels that have a positive benefit for people and planet. Steels made using innovative processes which use less energy, emit significantly less carbon and reduce costs. Steels that are cleaner, stronger and reusable. Steels for electric vehicles and renewable energy infrastructure that will support societies as they transform through this century.
ArcelorMittal is listed on the stock exchanges of New York (MT), Amsterdam (MT), Paris (MT), Luxembourg (MT) and on the Spanish stock exchanges of Barcelona, Bilbao, Madrid and Valencia (MTS).
ArcelorMittal Construction as part of the ArcelorMittal group is the leading global provider of steel building systems & solutions and sandwich panels for roofing, cladding, composite floors, light gauge structures, and modular housing.  Supported by technical expertise, ArcelorMittal Construction proposes construction systems that respond to thermal performance and energy saving, acoustic, airtightness and fire requirements. The group is established in 14 countries around Europe with the goal of becoming the leading supplier in all the markets in which they operate, by