Joyness Chumwala desperately wants to find a way to boost her family's income. She and her husband, Aaron, live in Dzehza in Lilongwe and have three children. As teachers, they struggle to make ends meet.
They have plenty of space on their property, and Joyness believes that if they build more accommodation and rent it out, it will help increase their income. The only problem, just like the one facing other low-income families in Malawi, is access to funds.
While 800,000 people in Malawi have small business development loans, there are few financial institutions and banks in Malawi that offer housing micro-finance loans. That's because of the country's high inflation rate and the need to pass escalating operating costs to clients through higher interest rate on loans.
There's also another problem. Even if people like the Chumwalas do get a loan, they will need help and guidance. Even with the strong culture of self-building in many parts of Africa, Joyness knows they are going to need professional support and hiring a construction consultant is costly.
Habitat for Humanity Malawi (HFHM) partnership with Select Financial Services (SFS) Malawi was able to solve both of Joyness' problems.

HFHM's Housing Support Services (HSS) helps low-income families by giving them access to loans through a micro-finance partner, while providing technical advice. It's the best of both worlds—a bank that lends to low-income families and an internationally recognized NGO who provides the technical assistance for building of simple, low cost housing, improving existing buildings, incremental housing and the renovation, or repairing of an existing dwelling. It's a collaboration that works synchronously, allowing Select to refer all qualifying clients applying for this housing loan product to the HFHM Construction Technical Assistant (CTA) Specialist. With this expertise in place, SFS can be assured the loans will be well-spent and repaid.
The process is very straightforward. SFS provides loans to salaried civil servants like the Chumwalas who have a low but regular income. Monthly payments are deducted from the Chumwalas payslips. In this way the bank reduces its risk, while being able to offer competitive interest rates. With more than 160,000 government employees, SFS recognized the potential to expand the project working alongside HFHM.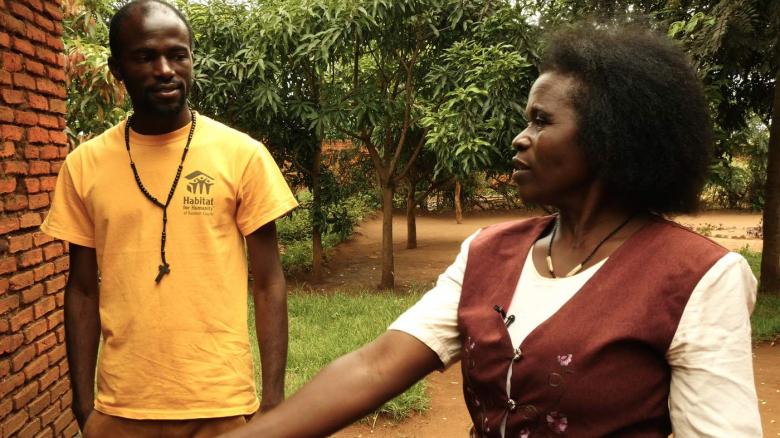 SFS approved the Chumwalas loan application to build in stages. Currently two flats adjoining their house are under construction. Each spacious flat will have two bedrooms, a living room and a storage area.
Frank Macheso, HFHM's construction technical assistant who trained as an architect at the polytechnic, helps people like the Chumwalas build houses that will stand the test of time. He draws up floor plans and gives advice on constructing foundations and walls. This includes recommendations on building material and methods as well as building permits.
Because of Frank's advice, Joyness put down plastic sheeting once the foundations were laid to prevent damp. She also made sure to protect the wood beam in the ceiling from termites. Frank also visits the Chumwalas to monitor the building construction.

After 25 years in the country, Malawians know that Habitat for Humanity is a name they can trust. Joyness knows this first-hand.
"Habitat advised me on how to build and now we have strong house," declares Joyness, beaming proudly.