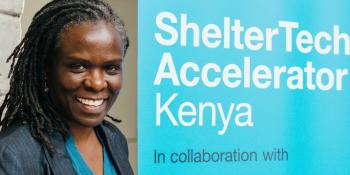 grants for affordable building products
ShelterTech Accelerator program is supporting Kenyan start-ups and growth-stage companies that are bringing shelter products and services to the low-income household market. 
Gjenge Makers Entreprises, for example, have received a grant for turning recycled plastic waste into pavement blocks. The CEO, Nzambi Matee, plans to use the grant to expand production capacity. 
During the ShelterTech Accelerator networking session, many new partnership were born. As a result, the company Fundimjanja was recently acquired by an investor. Fundimjanja has been in operation for the last seven years providing a platform for supplying building materials to hardware stores across Nairobi. According to the founder, Eric Kahiga, the investor had the capacity and manpower to integrate the product into their value chain.
Read the whole article about how the ShelterTech Accelerator supports start-ups and scale-ups in Kenya.