Jordan hosts about 666,000 registered Syrian refugees, according to the United Nations refugee agency (UNHCR), with most living in urban areas. 
The influx of refugees has put a strain on energy, water and housing demands. The attention and funds directed towards refugees have become a source of tension as some Jordanians ask: 'Why are all the grants going to Syrians?' says Aya Rabab'ah from the Jordan Green Building Council for the Thomson Reuters Foundation.
Habitat for Humanity Jordan and its partners aim to both mitigate conflicts in the community and help minimize climate impacts. The Green Homes project is engaging Jordanians and Syrian refugees to work together on making their homes more energy efficient.
They are building new near-zero carbon emission homes using green techniques such as reflective paint and double-block brick walls for better insulation. In existing homes, they add new shading devices, solar-thermal water heaters and rainwater collection tanks.  
"We made friendships and became a community through the work," said Al-Mimar.
"Some of us have intermarried. We work together. Relations are becoming better as we mix, and more cohesion is visible."
Read the full article Brick by brick by Adela Suliman, Thomson Reuters Foundation.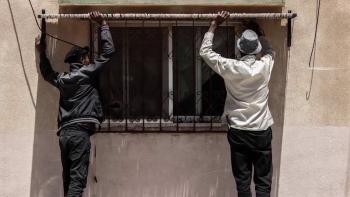 Donate now
You will help upgrade refugees` homes and communities. Empower new beginnings.
No countries match the filter