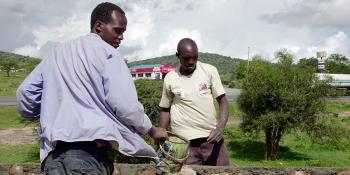 iBuild enters Kenyan housing market
A mobile application iBUILD helps Kenyans access affordable housing supply. It is now live on Google Play store in Kenya.
The app is connecting Kenyans who want to build or renovate their homes with construction experts, architects, suppliers or lenders. It helps them to go through every stage of the housing construction process, however big or small. Customers can also use a "mobile wallet" solution tuned to their individual needs to pay for the construction services that they have received.
iBUILD was officially launched at a ceremony in Nairobi on January 25, 2019. Among the participants were:
The Cabinet Secretary, Mr Mucheru, reiterated Kenyan government's commitment to affordable housing and lauded the iBUILD platform as a means to achieving this goal in a faster, efficient and open way. He mentioned that the launch was so important for the country that he received special permission from the president to attend the ceremony instead of going to a multi-sectoral anti-corruption conference, where government officials and the president were.
iBUILD's Chief Relationship Officer, Ronald Omyonga, expressed gratitude to Habitat for Humanity's Terwilliger Center for Innovation in Shelter noting that without their support, the launch would have been impossible. Habitat for Humanity's Terwilliger Center for Innovation in Shelter conducted the strategy that enabled iBUILD to adapt their mobile application to the local needs and helped to develop a minimum viable product for the Kenyan housing market. 
Author: Masua Mutua