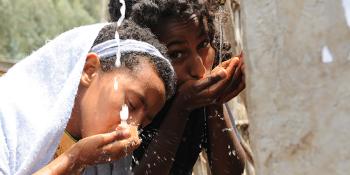 leaving no one behind
World Water Day 2019
In less than two years, Ethiopia experienced two severe droughts. Water, sanitation and hygiene remain one of the main global humanitarian response priorities. 
The issue of severe lack of water in certain regions of our globe is reflected in the main theme for the World Water Day 2019: Leaving no one behind. It builds on the UN Sustainable Development Goal 6 – to ensure availability of clean water and sanitation, and sustainable management of water for all by 2030.
Fetching Dirty Water 
This water crisis is felt most acutely by women since they are responsible for water collection in 80 per cent of households. It takes their time away from work, school and caring for family.
Damme Tesho, who lives in Shalla district in Ethiopia, is a mother of three children. She collects water for crops like maize, potato, and haricot-bean and rearing of animals. During dry season, Damme used to collect water from a nearby region in Halaba district travelling more than six hours to fetch water, which was not even clean. During rainy seasons, they collected water from ponds or road catchments near their village. For drinking, they filtered it using their clothes.
"It was not healthy and our children were suffering from diarrhea. We felt insecure drinking the water," says Damme. 
Yet life has changed for better for Damme and almost 1000 families in Sinkile Guri, Kobo laman and Ore-Shibibo kebeles of Shalla district since they started using filter devices distributed by Habitat for Humanity Ethiopia. Families were trained on the benefits, utilization, handling and cleaning of the filter devices that, if properly used and managed, can serve them for 20 years. 
"I am very happy. The filtered water is very safe. Look at this water. It is better than tap water and even equivalent to bottled water, which is free from disease causing microbes."
— Damme Tesho
Fighting Water Crisis
Habitat for Humanity has been implementing water and sanitation projects in the Arsi Negelle and Shalla districts since January 2017. They focus mainly on the communities that suffer from sever droughts. Habitat is currently constructing: 
100 cubic meters water reservoir;
16 public water points;
40 kilometers pipeline installation.
These water solutions will create access to safe drinking water for more than 14,700 beneficiaries.