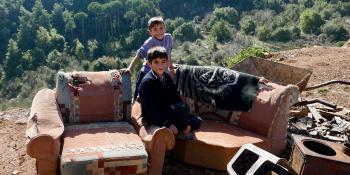 Life-changing days in Lebanon
My time at Habitat Lebanon
Written by Catarina Hanna-Amodio, volunteer
In late November of 2018, I arrived for my first day at the Habitat office in Hazmieh, Beirut, not entirely sure of what to expect. I was about to begin volunteering for two months, hoping to learn more about the situation of refugees in Lebanon and the role of Habitat for Humanity and other organisations in the region. I wanted to volunteer because when I visited Lebanon in the past, I felt the city and its people were somehow immune to the refugee issue in spite of the country having the highest percentage of refugees per capita and 1 in 4 people being refugees. I felt like local Lebanese living in Beirut were removed and uninterested in the issues going on around them when in reality, they have made the society the way that it is today. 
On my second day here I visited the field, joining a team consisting of two social workers and one engineer. We went to Baissour, an area within the Aley District of Mount Lebanon, to the homes of several Syrian refugee families. We conducted an assessment of the household and the family, which was made up of more than 17 people. Upon asking them questions and looking around their home, the difficulty of their situation became clear. The entire household shared one bathroom, which was nothing more than a hole in the ground. They did not have proper windows or doors, making it extremely cold inside, especially when the temperatures dropped in the winter months. It did not take long to realise that this is the norm for too many households within the region. 
I was immediately struck by the cleanliness of the homes we visited. Communal spaces were neat and tidy, and people appeared to be well kept, holding themselves to a certain standard and with dignity which I found admirable. I thought back to the messiness of my brother's room at home and compared the two, thinking about the importance of respect for yourself and the spaces around you, no matter how little you have. 
The next day, I went to Beqaa Valley, visiting homes in Chtoura and neighbouring areas. The most striking scene was a community of homes which we saw housing almost 30 people in total. The homes of these people seemed temporary, appearing like semi-formal structures, protected by things like tarpaulin and blankets hung on the walls to provide insulation against the cold stone and cement walls. Here, the generational divide was blurred between children and adults, as there were mothers as young as seventeen. I had not expected to meet women younger than me and see them carrying their babies and young children in their arms. Shoes were laid in the sun to dry, they were second hand shoes being cleaned to resell. Yet in spite of all this misery, the children were smiling and jumping around. They became particularly fascinated with my camera and were dancing in front of me while I took pictures to show them. A particular scene which I believe will always stick with me was the moment in which we began to drive away. As we got into the car, all the children followed us and stood in a line to say goodbye. Some of them blew kisses through the car window and others waved us off as we drove away. Turning to look through the rear window, I could still see them in the distance.
As we headed back to the office, we stopped on the side of the highway. We walked to a door which opens almost directly onto the road and stepped inside the home of a young family. The walls were painted in pink and the house was poorly lit, with an electricity cable hanging across the hallway, forcing you to crouch under it. We had to speak extremely loudly to be able to communicate with each other as the noise of cars on the highway outside nearly drowned out all sound. They explained to us that they didn't even use to have windows. As we left the home, I struggled to imagine what it must be like to actually live there, in the noise and pollution of a highway, sleeping in a room where the bright pink paint was peeling off the cold walls.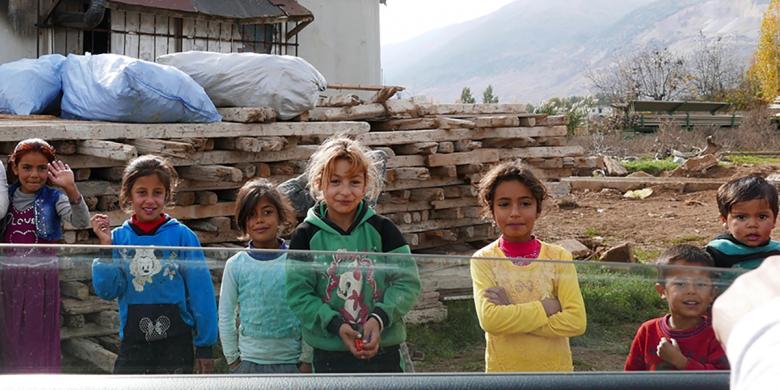 Doing office work and data analysis also proved interesting. Even as you type information into an excel spreadsheet about the nationalities, income and utility cost of a household, you begin to imagine a family. Entering their age and gender into the table, a story begins to form in your mind; where they live, where they come from, what they do. 
Now two months in, I am reflecting on my time at Habitat and thinking about what has resonated with me most deeply. There are stories of individuals and families which have stuck with me. The baby called Taym who we met in Qeb Elias, born just hours before; or the young boy in Jdita who wore a Barcelona FC T-shirt and was constantly posing for the camera; or Fahima who came to Lebanon with her two young children only three months ago, and who has a husband still missing in Syria. These feel like stories that I am used to reading in the newspaper, about people who are depicted as being desperate for help. In reality, a change to their livelihoods can only ever be created when their most basic need of shelter is met.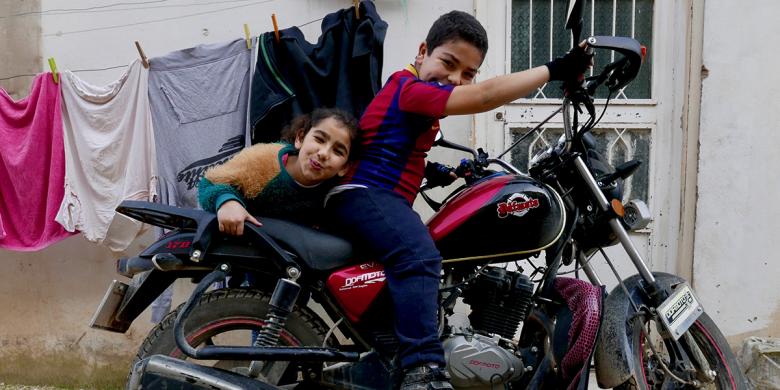 Even during my short time here, I was able to witness households transform into more liveable homes. I was able to return to the first home I ever visited in Baissour several times. Seeing the changes made and the impact which these had was extremely meaningful. A striking woman held my arm as she told me in Arabic 'Helou, kteer helou', meaning lovely, very lovely. She was referring to the improvements made to her home and repeated it five times during our visit. She was elated with the small changes like the addition of aluminium windows, proper toilets and shower heads. While they might seem insignificant, they have impacted the lives of the entire family, improving them in a matter of weeks. Even now I have a greater appreciation for things which are often taken for granted. I feel lucky every time I return home and am able to have a hot shower, or lock my front door or cook something with ease.
What I will take away with me from my time at Habitat is the vitality and importance of the work being done by us and other organisations in the region. I have realised the value of shelter as one of the most basic human needs and the role it plays in changing people's lives. It is promising to see the way in which families from all backgrounds are being supported, whether they are Palestinian, Syrian, Jordanian or Lebanese. Peoples' situations are slowly being improved, one household at a time.