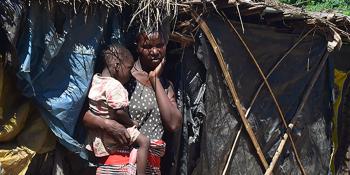 In March 2019, flooding in Malawi caused by Cyclone Idai affected nearly one million people causing them to leave their homes and lose possessions. Many roads and bridges in the south of the country were washed away, cutting off road access to some areas.
Grace January, a single mother with six children, from Sitima Village in Chabuku is one of those affected by the floods. "March 7th was just like any other day. I was having supper with my children when suddenly I heard people shouting 'Water! Water! Water!'" remembers Grace, holding her daughter in her arms. 
This was the most horrible sight she had ever experienced in her life. Grace saw water coming towards her home, and she immediately took her children and led them to a higher ground. When she came back to collect her belongings, water levels were up to the waist. She rushed back without entering her house.
"When I went back to my children, I found other people who were also rushing to a higher ground, and we all proceeded to a church building where we spent the fateful night. The water kept rising, and the next day it reached the church. Our men constructed a raised rack where we had to put the youngest children and we climbed the trees. Canoes ferried people to higher ground. Crocodiles from the Shire River were just roaming around and we were at risk of being attacked by them," said Grace.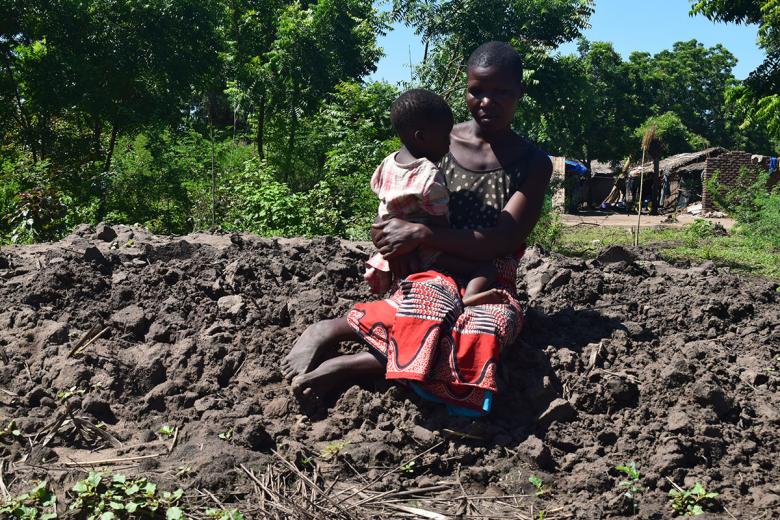 "Only two days later the water levels started going down, this brought us a sigh of relief as we were then able to climb down from the trees," Grace said.
"I had two goats, four chickens and five chicks - all were washed away. I had one acre of rice and three acres of maize - everything was swept away." After the water had subsided, Grace constructed a shelter near the church where she is staying with her six children waiting for the water to dry so that she can go back and reconstruct her house. 
Grace is a farmer selling beans and bananas. "I am a widow who depends on farming and my small scale business, so staying here at the camp will not solve my problems. As soon as the water dries, I would like to go back and rebuild my life."
Grace hopes that the local government will offer assistance to the local farmers and will help them buy seeds. She would also need assistance in rebuilding her home.
If you want to support our recovery efforts in Malawi, please go to habitat.org/donate and designate your gift to Habitat Malawi.
How we respond to flooding in Malawi
Habitat for Humanity Malawi is assessing the situation to develop an appropriate response. It is estimated that a longer-term community recovery program could cost over US$ 600,000, depending on the needs and scale. Habitat for Humanity has been working in Malawi since 2009. In 2015, Habitat started a disaster risk reduction program in the south of the country in response to heavy floods. Houses built by Habitat for Humanity have not been damaged during the current floods.