"It was an earthquake. I can only call it an earthquake, but the difference is that it was man-made. Nature did not bring this upon us, people did," says Deebeh Al Dkak, a resident of Burj Hammoud district in Beirut, as she recalls events last year. A devastating blast ripped through the Port of Beirut on Aug. 4, 2020 destroying entire sections of the city. Officials estimate that more than 170,000 people live in homes that need to be reconstructed. A year later, investigation findings have not been disclosed and no one has been held accountable.  
As the eldest of four sisters, Deebeh moved to Beirut, Lebanon's capital, from Zahle in the Bekaa Valley four decades ago seeking employment. She began working at a factory. Since then, she has lived in the same small flat in Burj Hammoud. As she recollects the events of that first Tuesday in August, she trembles and tries to hold back her tears.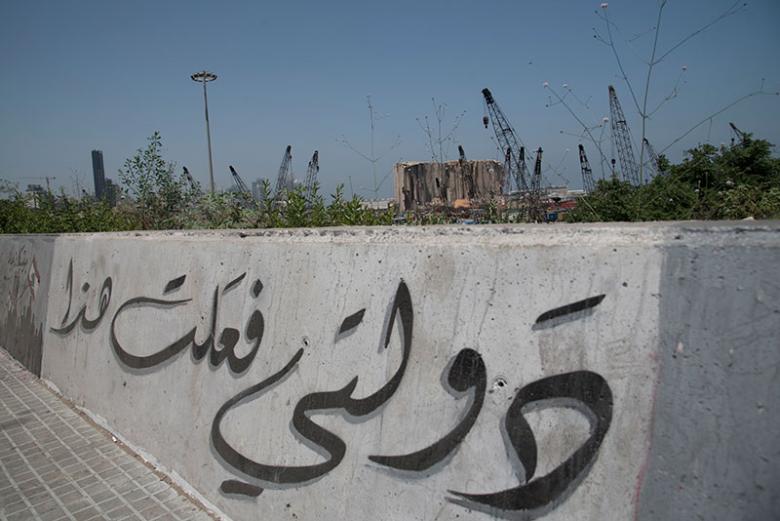 Deebeh was walking home from work when she heard a loud earth-shattering sound. "I quickly turned my back to the sound, closed my eyes and faced the corner. When the explosion happened, I felt my soul was blown out of my body," she says. At home she couldn't unlock her door as the explosion had dislodged it. She got in with the help of her neighbours and found the bathroom door knocked out, the wooden window frames and glass broken, the stove and washing machine knocked over and the cupboards hanging off their hinges.
Today, the windows and doors in Deebeh's apartment are fully restored, the plumbing in the bathroom and kitchen fixed and a water heater added. "Many agencies and civil organizations surveyed the area, all asking the same questions and promising to come back. No one did, except you," she says referring to Habitat for Humanity and the Catholic Relief Services who had joined forces to respond to the Beirut Port explosion and oversee repairs in homes such as Deebeh's.

Lebanon is facing a multi-faceted crisis. The COVID-19 pandemic complicates matters further. Economic and political chaos sent poverty levels up and placed extreme pressure on vulnerable families struggling to secure food, water, electricity and healthcare. Habitat for Humanity and CRS are supporting those whose homes suffered minor or moderate damage. Partner organizations also provide financial and technical assistance to a selection of local nonprofit organizations focused on shelter rehabilitation.