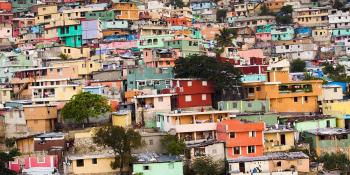 Sharing our expertise at the UN's 10th World Urban Forum
With countries around the world continuing to face rapid and large-scale urbanization, Habitat for Humanity is honoured to once again share its insights with global leaders on how to ensure cities and human settlements grow in ways that are inclusive, safe, resilient and sustainable.
Taking part in the United Nation's 10thWorld Urban Forum (WUF) which is underway in Abu Dhabi this week, Habitat is leading sessions it hopes will raise understanding among thousands of participants on how to deal with challenges such as urban poverty and homelessness, and the importance of global efforts to help tackle the Sustainable Development Goals (SDGs), particularly those around sustainable cities and communities (SDG11).
Since Habitat is one of the foremost advocates for housing at the centre, and because of our successful global engagement and local actions in communities, we are helping to drive a targeted advocacy campaign on SDG11, which includes a role in convening partners and various other stakeholders to grasp the full potential and importance of the goal.
We'll be using this year's WUF to take further steps to help realise our vision of a world where everyone has a decent place live. This will see us launch an intensive six-month campaign that promotes multiple approaches and outlines recommendations for the United Nations, national governments, local and regional governments and civil society organizations to accelerate progress towards achieving the SDGs by 2030.
We know that governments alone cannot achieve the SDGs. Habitat is in a unique position to move the needle on achieving SDG11, particularly by strengthening the relationships of our network with their national governments and engaging more partners to help advocate the vital role adequate and affordable housing in achieving sustainable development globally.
To find out more, please read about our upcoming campaign on SDG11.
If you want to find us at WUF10 in Abu Dhabi, see information about our sessions.