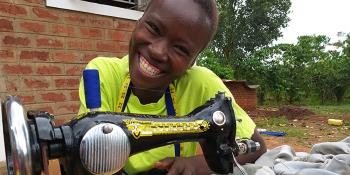 Uganda can count on its youth
Susan did not hesitate to try her luck and registered for the vocational skills program. Luckily, she was among the 74 youths selected this year and entered the four month training to learn tailoring and garment cutting at the Pioneer Technical Institution in Iganga. She confessed that she loves design. It has been her passion since she was young.
"I have promised to support my mother and siblings as soon as I start to make some money. I am grateful for the skills that I have been given. Now I am able to make shorts, skirts and dresses," Susan smiled. "And when I am stuck and need some help I have already made new friends with whom I studied and who stay in the same village."
Susan is 19 years old now. She and her seven siblings were raised in Ndaiga Village in Uganda. She dropped out of school because their mother lacked a stable source of income. They had to do casual work to provide for themselves.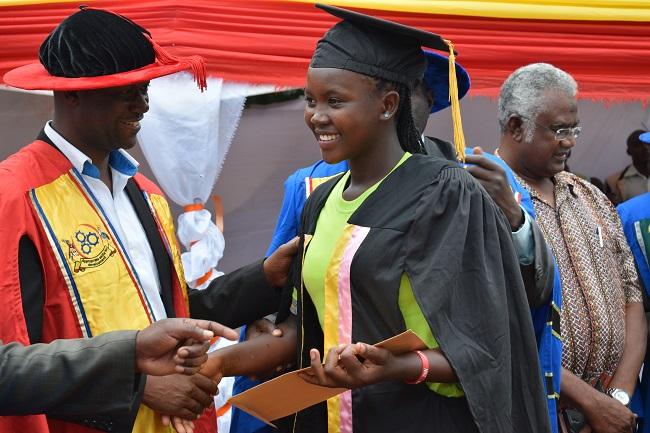 Today, Susan has already secured a place in Bugadde center where she will place her sewing machine and look forward to welcoming her clients. In her home area, tailoring is in high demand so together with her friends they are considering a joint venture. 
Susan also encourages her fellow youths to seize opportunities that they can build on in order to sustain themselves just like she did after failing to continue with her formal education.   
Habitat's Vulnerable Groups Housing Program
Habitat for Humanity recognizes the connection between housing and income. The Vulnerable Group Housing Program supports families not only through homes construction but also improves their work incentives. The vocational skill trainings offered to them are relevant to their local markets and develop skills such as tailoring, carpentry and masonry.
"Training enables them to earn an income to support their families and also help to reduce the proportion of youth unemployment," says the program manager Gilbert. "The youth enrolled are from the beneficiary families we build houses for. At the end of their course we provide them with startup tool kits to support them starting businesses and being able to earn a living."
Why Focusing on Youth?
Sixty five percent of Ugandan population consists of young people between zero and thirty-five. Like Susan, they have enormous potential, but as Proscovier Vikman (National Coordinator of Municipal Development Forum in Uganda) says, although youths are educated, they don't have skills. And this gap needs to be bridged.