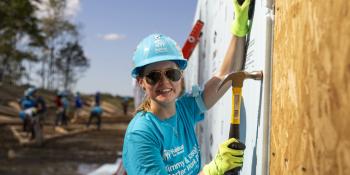 Umdasch Group supports Habitat for Humanity on construction projects
Bratislava (May 27, 2023)  — Habitat for Humanity International is pleased to announce a new partnership with Umdasch Group, an Austrian-based group of companies active in the construction and retail sector.
The partnership will focus on sponsorship of house constructions and support of the Carter Work Project. Employees of the Doka subsidiary, who specialize in innovative formwork and scaffolding solutions in all areas of construction, will engage in international volunteering events on construction projects in the United States.
"By supporting Habitat in the USA, we can closely dovetail our social commitment with our corporate strategy and thus achieve the greatest possible impact with our available means and resources," said Wolfgang Litzlbauer, CEO of the Umdasch Group.
The Carter Work Project, an annual home building event organized by Habitat for Humanity and its affiliates, takes its name from the former U.S. president Jimmy Carter and the first lady, Rosalynn, who are celebrated as Habitat' most famous volunteers. Together, from 1984 until 2019, they served as champions and strong voices for decent, affordable housing around the world, having worked alongside more than 104,000 volunteers in 14 countries to build, renovate and repair 4,390 homes during that time.
"We are grateful for engaged partners such as Umdasch Group, promoting innovative solutions to make construction processes more transparent and sustainable, and helping Habitat build a world where everyone has a decent place to live," said Rick Hathaway, Habitat's vice president for Europe and the Middle East.
About Habitat for Humanity
Driven by the vision that everyone needs a decent place to live, Habitat for Humanity began in 1976 as a grassroots effort on a community farm in southern Georgia. The Christian housing organization has since grown to become a leading global nonprofit working in local communities across all 50 states in the U.S. and in more than 70 countries. Families and individuals in need of a hand partner up with Habitat for Humanity to build or improve a place they can call home. Habitat homeowners help build their own homes alongside volunteers and pay an affordable mortgage. Through financial support, volunteering or adding a voice to support affordable housing, everyone can help families achieve the strength, stability and self-reliance they need to build better lives for themselves. Through shelter, we empower. To learn more, visit habitat.org.
About Umdasch Group
The internationally successful Umdasch Group is active in more than 60 countries at over 170 locations and currently employs around 8,500 people worldwide. The family-owned company is the holding company for three operating divisions. Doka is one of the world's leading companies for innovative formwork solutions and services in all areas of construction. In addition, the company is a global supplier of sophisticated scaffolding solutions for a wide range of applications. umdasch The Store Makers is a specialist in the design of shop interiors. Consulting and project management make the company an important partner for the retail industry, especially when it comes to innovative concepts for combining traditional stores with online retail. Umdasch Group Ventures is the technology driver and develops new, groundbreaking solutions and business models in both construction and retail.