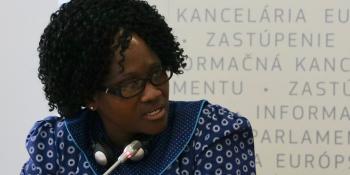 We need to change focus
interview with Mathabo Makuta
According to Mathabo Makuta, the international aid for Africa is mainly targeting rural areas. Since a growing number of people are migrating to cities, we should shift our focus onto the urban issues. 
Interview with Mathabo Makuta, by Lucia Yar, euractiv.sk
Mathabo Makuta is a former government representative and a national director of Habitat for Humanity in Lesotho. In Bratislava, she attended the external launch of the project Build Solid Ground funded by the European Union and shared her expert views on the urban issues in Africa in a panel discussion titled Urban Development: Building Cities for all.
How does the United Nations` New Urban Agenda impact Africa?
The New Urban Agenda is a challenge for which our governments must find solutions. First of all, they need to find a way to accommodate – not prevent – people migrating from rural to urban areas. It is equally important that they come up with policies that will tackle the urban challenges the residents are facing in rapidly growing cities. 
Many cities in Africa do not have any urban policies because the main focus of governments and donors is on the rural areas.  
What are the most crucial issues caused by urbanization in Africa?
The cities in Africa are mostly overcrowded, transportation and infrastructure are bad, and we have limited numbers of roads. In small countries like mine, we are hardly able to drive through cities. What used to take 10 minutes now takes one hour. The transport junctions are a big challenge. We feel the lack of urban transportation policies. 
There is also the issue of decent housing. People move to cities in search of a job, better education or other facilities and they often rent a place far from their work. This also opens the question of affordability and travel costs. 
It seems like African and central European cities face similar issues. 
Many parts of Europe are already advanced and have already adopted solutions for many urban challenges. We have to learn from their successes and failures. Both continents can enrich each other through exchanging knowledge and experiences.
How could Europe help Africa?
Europe could help raise awareness about the issues in Africa. It could enhance the exchange between the continents, their mutual support and development.
European countries could also support urban interventions so as to make the New Urban Agenda realistic and achievable. It is high time that cities get the focus and the attention they need to change their residents` lives. Everyone needs a decent place to live and access to basic services.
Then there is also the issue of gender equality and inclusiveness in all the matters that are affecting cities and their citizens.
What about governments in Africa? What is their role? 
First of all, we need the political will to transform our cities. Without the necessary governments interventions and their political will to translate the sustainable development declaration and the New Urban Agenda into reality, it will just remain a declaration of states.  
We need national governments to make the urban agenda one of their priorities and create strategies for implementing it. External support is important to make the New Urban Agenda attractive for the governments and for the technical support, coming up with new innovations and bringing innovative concepts such as smart cities.   
Is the African civil society active in solving the urban issues?  
In many countries the civil society is very active, especially in advocating for land rights. In my country, Lesotho, the civil society is concentrated around smaller, often minor issues, that are not so significant in changing the landscape in the urban areas.
Habitat for Humanity Lesotho has made a lot of effort to facilitate policy changes, promote urban themes or improve access to land. We have started some pilot projects to showcase that some models and approaches can work. As a nongovernmental organization we cooperate with partners such as private companies and, thanks to that, we managed to build houses for orphans and elderly people. Still, it is only a very limited intervention. 
We also work with communities which participate in every process that we do. The people that benefit from our interventions are identified by the communitites themselves. 
Despite these interventions being small relative to the need, lessons can be learnt from the approach and principles of Habitat for Humanity: to care for one another, and not just those that are close to us but also those that are far. It does not matter whether we own a lot or just a little, everyone can help. 
This article is created with the financial support of the European Union. Its contents are the sole responsibility of Habitat for Humanity Europe, Middle East and Africa and do not necessarily reflect the views of the European Union.