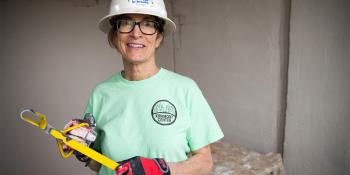 How to fundraise
Europe, the Middle East and Africa
"My trip with Habitat is one of the best things I've ever done. It has changed my perspective by showing me the power of having a home."
— Laura McCann, volunteer in Ethiopia
If you are planning a volunteer trip with Habitat for Humanity, you may wish to raise funds to cover some or all of the costs.
Your volunteer coordinator will help you create an effective fundraising strategy and guide you on how to use different resources and tools, like the internet, to make sure you succeed in raising the funds you need.
Start by reading our fundraising brochure, which has several tips and examples for fundraising initiatives.
Also our fundraising handbook is a comprehensive guide to the many ways Habitat volunteers have successfully spread awareness about Habitat for Humanity's efforts and raised hundreds of thousands of dollars to support our shared mission.