Proud employees volunteer to help others
Home is the Key partner Nissan has supported Habitat for 13 years, donating more than $14 million and helping to build 78 homes — and counting.
The partnership started in 2005 when Nissan donated 50 trucks and mobilized its employees to help after hurricanes Katrina and Rita devastated large areas along the U.S. Gulf Coast. Eleven years, millions of dollars and more than 85,000 volunteer hours later, Nissan employees are still going strong in their efforts. More than 6,000 Nissan employees have given their time and talents to help build homes all across the world, ultimately helping Habitat serve 569 families.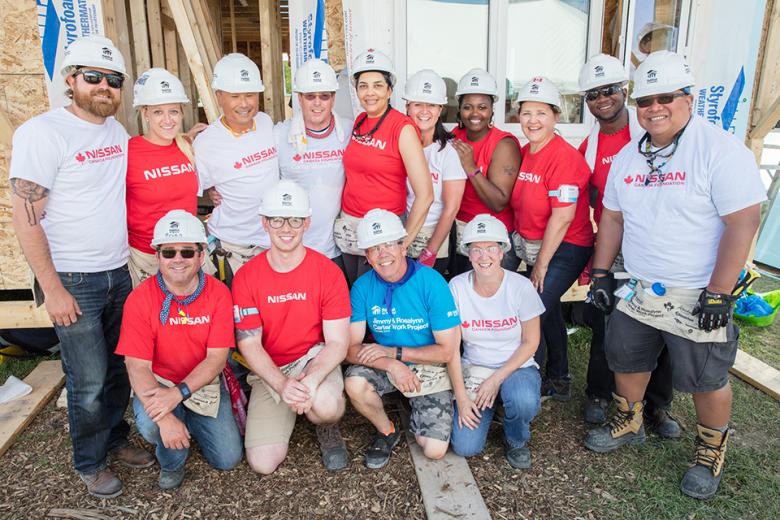 Two employees that exemplify Nissan's commitment to Habitat are Joseph Flowers and Donnie Thomas.
When Joseph Flowers, a body assembly technician at Nissan's plant in Canton, Mississippi, works on a Habitat house, he is all in. Whether it's putting up drywall, hanging doors or installing faucets, he does whatever it takes to get a future Habitat homeowner into their new home.
"I get so much enjoyment out of helping others, especially helping to build homes with others," he says. "It's a good feeling to volunteer. You're making a difference in a family's life."
Donnie Thomas has worked at Nissan's Smyrna, Tennessee, facility for more than three decades. After working on eight Habitat homes, he understands that every hammer swung, every nail driven in, makes a difference in someone's life.
"Every child deserves to have a nice, clean place to live. I think every family deserves that, every child should have that," Donnie says.