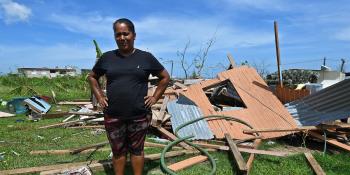 On Sept. 18, 2017, Hurricane Maria made landfall in Dominica, and continued its path to make landfall in Puerto Rico on Sept. 20, setting off a fatal and ongoing humanitarian crisis in the U.S. territory of Puerto Rico and the Caribbean. In Puerto Rico, officials estimate that 780,000 homes were damaged by hurricanes Irma and Maria, with 472,000 noted as severely damaged or destroyed.
In the immediate aftermath of the hurricane, we assessed the damage and committed to helping hurricane-affected families over the next three to five years as part of our Habitat Hammers Back initiative. By January 2018, in Puerto Rico, we had distributed 2,000 shelter kits, and another 2,000 solar kits, including with solar lamps and solar panels, in partnership with the nonprofit Save the Children.
Our progress on the island has faced extraordinary challenges, given the severity of the Hurricane Maria damage and major obstacles to rebuilding, yet we are beginning to see results through our work with government, partners and donors committed to restoring Puerto Rico. Addressing the longstanding issues in tandem with recovery will improve economic opportunities, return families to safe housing, and make families and communities more resilient to future disasters.
In addition to Puerto Rico, a number of Caribbean islands suffered damage, some catastrophic, from hurricanes Irma, Jose and Maria in September 2017. Habitat for Humanity initiated an emergency response in the Dominican Republic and the Commonwealth of Dominica, where the governments accepted our offer of support and assistance.
In Puerto Rico, as of July 2018, Habitat has accomplished:
96 disaster relief and recovery services delivered, including distribution of appliances and generators.

2,000 shelter kits and 2,000 solar kits distributed.

10 repairs completed; three new homes under construction.
Habitat's long-term recovery program in Puerto Rico includes four key areas of focus:
Providing local workers with access to training programs and construction methodologies that will help build back safer, resilient homes.

Partnering with homeowners to repair or rebuild their homes, and offer trainings on safe repair and building practices and disaster preparedness.

Supporting policies that will improve security of tenure and processes for title clearing and granting.

Widely sharing knowledge and key learnings from Habitat's ongoing work and advocacy efforts so that residents, communities and leaders can increase and scale housing recovery.
In the Caribbean, as of July 2018, Habitat has accomplished:
Technical support and carpenter training in Dominica.

800 emergency shelter kits in 10 of the most affected communities in the Dominican Republic and training on how to use the kits to make repairs or build emergency shelters, in partnership with ShelterBox.

236 repairs and 10 new homes in the Dominican Republic.
For more Hurricane Maria update information, read our one-year hurricane recovery progress report.
Habitat is also focused on helping families prepare for the future hurricanes. Through the Habitat Ready program, homeowners will have access to resources that will help them make a family preparedness plan, put together a supply kit and be ready to respond to common hazards in their community.