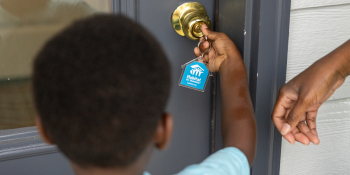 Research series: How does homeownership contribute to social and civic engagement?
People with low incomes have generally been less civically engaged than the population at large. Because of this, they have less political and social influence and less ability to advocate for policies and issues affecting them. Homeownership motivates increased civic engagement regardless of income level, so increasing opportunities for homeownership among people with low incomes will increase their political and social involvement.
Social engagement is a precursor to civic engagement. Socially engaging activities like volunteerism facilitate a sense of pride and belonging in one's community, forming one's social identity and developing fulfillment. That community pride and sense of belonging foster connection to the community and increase the likelihood of becoming civically engaged, particularly in local elections.
Through a series of evidence briefs, Habitat is bringing to light research on the impact of affordable housing on individuals and families. This brief looks at how homeownership can support civic engagement. Read the research highlights below and download the full brief to learn more.
Research highlights
Social and civic engagement are essential to representation in the democratic process, and both are heavily influenced by access to — or lack of — affordable housing access. 
Supporting residential stability increases social and civic engagement.
Residential stability among homeowners is related to improved life satisfaction, increased civic participation and improved educational outcomes for children, along with better physical and mental health.

Residential stability through homeownership is an important predictor of

participating in local elections, though homeownership alone was also related to civic engagement, particularly in local elections and in community groups, after accounting for residential stability.

Homeownership is associated with increased residential stability, as renters move at about five times the rate of homeowners 

and stay in their residences on average one-quarter the duration of homeowners.

 

Homeowners have more opportunity to build social capital through social engagement, which strengthens their motivation to maintain and improve their neighborhood.

Organized, group-based civic engagement builds social capital and collective efficacy, or the belief that a community can regulate itself.

Maintaining social engagement supports the quality of life in older adults and reduces loneliness, so aging within one's community enables the maintenance of social ties and opportunities for civic involvement.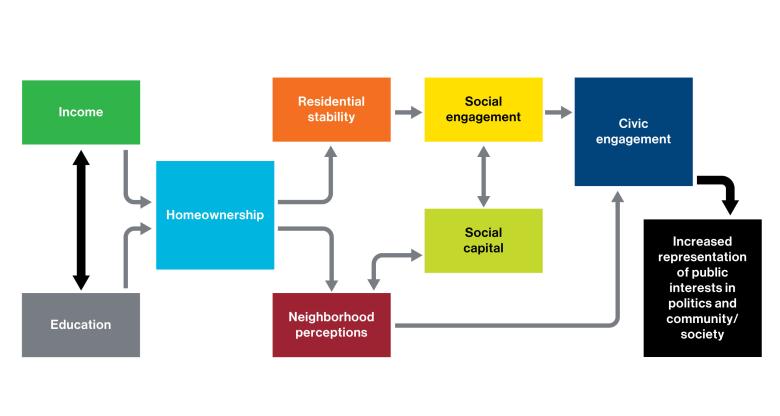 Homeownership can mitigate some racial gaps in civic engagement.
When levels of education, income and employment are equal, Black populations are equally civically engaged compared with their white counterparts. However, when Black and Hispanic/Latino populations have lower educational, income and employment opportunities — often as a result of structural racism — their rates of civic engagement are significantly lower compared with white populations.

Increasing access to homeownership for Black and Hispanic/Latino adults can increase civic participation by 8% among these groups. Addressing systemic inequalities, such as improving access to higher education, would increase civic participation by 33%.

According to a Kaiser Family Foundation poll,

Black and Hispanic/Latino adults vote at greater than expected rates compared with their homeownership rates, partially because they are more likely to live in disinvested neighborhoods that require collective action to maintain and improve.

Increased residential stability of Black and Hispanic/Latino households through homeownership and home repair programs enables these marginalized groups to remain in their homes for longer, increasing their ability to build social capital and mitigating barriers to social and civic engagement resulting from low income, low educational attainment and less lucrative employment.