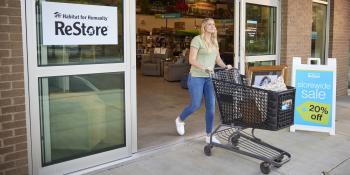 Shop at Habitat for Humanity ReStore
A look inside the Habitat ReStore shopping experience
Shopping at a Habitat ReStore isn't like the shopping experience anywhere else. Part home improvement store, part homegoods store, part resale store, each ReStore has a wide selection that changes often. You benefit because you get fantastic new and gently used home improvement items below retail prices. Folks in your community and around the world benefit because your purchase supports Habitat for Humanity.
Honoring Rosalynn Carter
Sign our memory book as Habitat remembers Rosalynn Carter and honors a life of grace, compassion and service.
Who shops here?
All sorts of people shop at the ReStore!
Whether you are a do-it-yourselfer, homeowner, renter, landlord, contractor, interior designer, environmentalist or treasure hunter, make Habitat for Humanity ReStore your first stop when shopping for your next home improvement, renovation or DIY project. There are hundreds of ReStore locations – and they're all open to the public. Find a Habitat ReStore near you.
Why should you shop at ReStore?
The prices are great and you never know what you will find.
But more than that, all proceeds from ReStore sales support Habitat for Humanity's mission to make sure everyone in the world has a decent place to live. Shopping at the ReStore not only supports your community, but also supports building affordable housing around the world.
When you shop ReStore, you help Habitat build.
There are more than 900 ReStore locations around the country. Find the location nearest you.
What new and gently used goods can you buy at Habitat ReStore?
Every Habitat ReStore is unique, and inventory at each changes daily. You can find something new every day!
Most ReStores will include a variety of new and used building materials, appliances and furniture. Many stores have inventory that expands beyond these three categories. Check out your local ReStore to see what they have in store for you today.