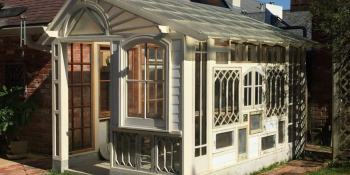 30 years of fantastic finds at Habitat ReStores
Whether you're a do-it-yourself hobbyist or a construction professional, the ReStore is a unique place to find the tools, appliances and materials you need to help complete or inspire your next building or decorating project. And those finds, in turn, help build so much more.
That's because, once an item sells, the proceeds help fund Habitat's local work, so more families can build or repair a place to call home. From 2011 to 2021 alone, Habitat ReStores in the U.S. have generated more than $1 billion to further Habitat's work both locally and internationally, through Habitat's tithing program.
Here's a look at just some of the fantastic finds that, while passing through Habitat ReStores, have helped families build or improve the places they call home over the past three decades.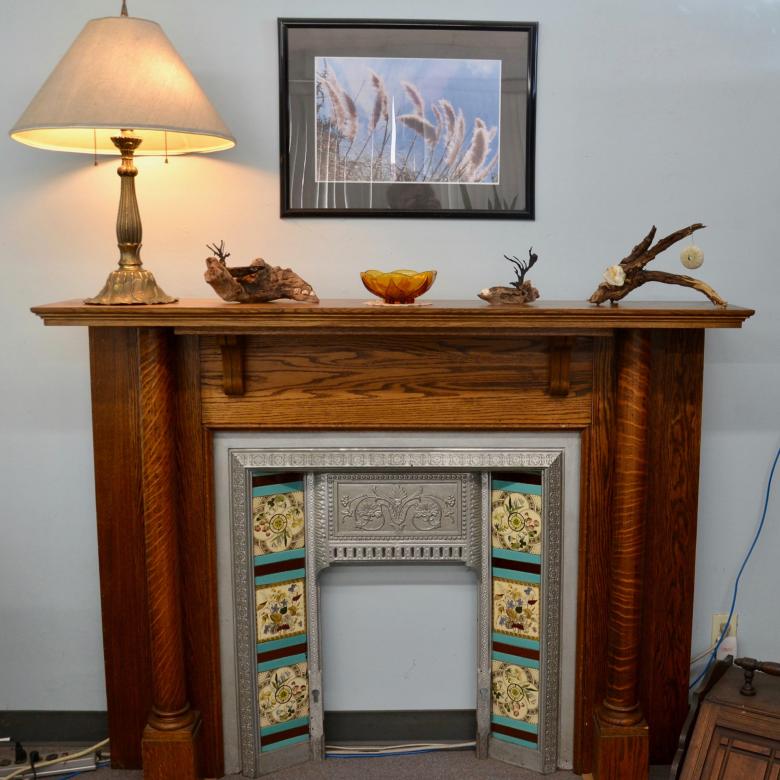 When Alice Linton went to Habitat Greater Toronto Area's Scarborough ReStore many years ago while she was restoring a historic home nearby, she wasn't sure what she would walk out with. "I certainly didn't think it would be a fireplace," she says. But that's part of the wonder of the ReStore, she adds. "Sometimes things just find you."
The fireplace had been painted white, but otherwise seemed to be in perfect shape. At home, she meticulously stripped away the layers of paint to reveal the beautiful golden oak underneath. She also discovered a handwritten inscription on the back that said the piece had been made in Ohio in 1862.
A close friend and local carpenter completed the restoration process for Alice and treated the fireplace with beeswax to protect it. Alice refinished the metal parts of the insert, taking care to preserve the unique, hand-painted tiles. "It turned out stunning," she says of the effort. "The golden oak just shines."
Years ago, the fireplace accompanied Alice on her move to California, joining her first in her home and then in her office, where more people could enjoy it. Alice is planning another move soon, this time to Europe, but the fireplace won't be making the trip. "My daughter already called dibs on it," she says with a smile.
...and an heirloom preserved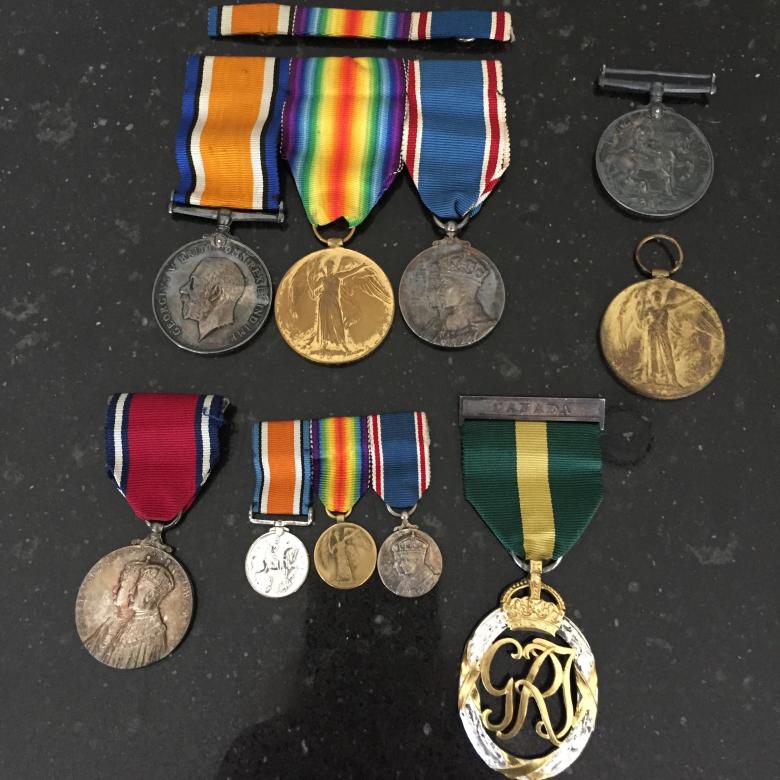 A chance discovery at the Habitat Peterborough & Kawartha Region ReStore in Ontario, Canada, resulted in the return of an important piece of family history.
Ninety-two-year-old Catherine Allen was "astonished" to be reunited with the First World War medals honoring her late father and grandfather. Believing them to be in the possession of another relative, she didn't even realize they were missing before she was contacted by Habitat Peterborough board member Jill Bennett who had spent weeks investigating their origins.
The medals belonged to Allen's father, George Raymore Scott, a physician and medical officer, and her maternal grandfather, the Rev. A.J. Vining, a war chaplain. They were found in an old plastic food container that was destined for the trash, but when a ReStore employee opened it to ensure it was empty, they discovered a pouch containing the medals.
From the one-of-a-kind items…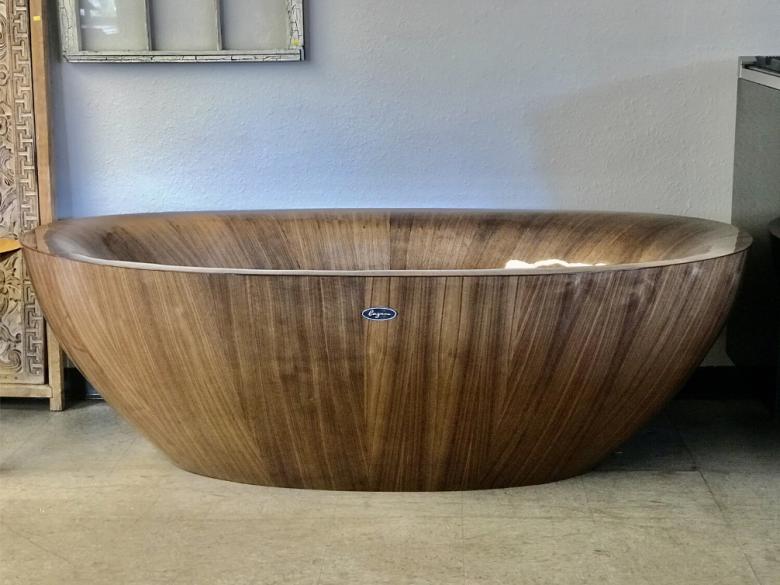 This Swiss-made wooden bathtub and a matching set of wooden sinks were donated to the Habitat Vail Valley ReStore in Colorado. They are made from wood veneers that are compressed under pressure and saturated with a special resin. The tub alone retails for $24,000. The set of three was put on the ReStore sales floor for $12,000 and sold in less than a month.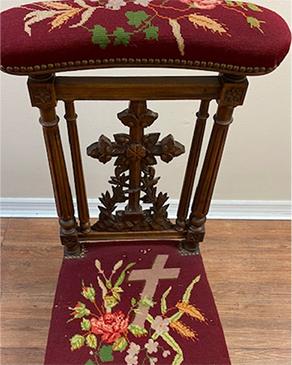 A long-time donor picked up this ornate prayer kneeler at a local estate sale and donated it to the Lakeland Habitat ReStore in Florida.
"We see some pretty unique things come through the ReStore, and this is definitely one of them," says Claire Twomey, CEO of Lakeland Habitat.
...to the 'many-of-a-kind' projects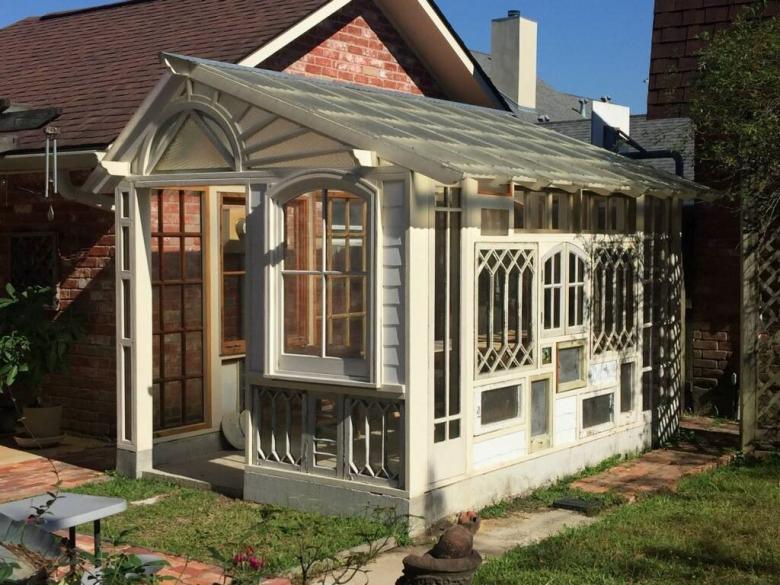 Dozens of windows from the Habitat ReStore Southeast in Baton Rouge, Louisiana, were collected by a customer who used them to create this impressive greenhouse in his backyard. The DIY project will help his garden flourish by protecting it from extreme temperatures and unwanted pests, all while diverting items that otherwise might have been sent to the landfill.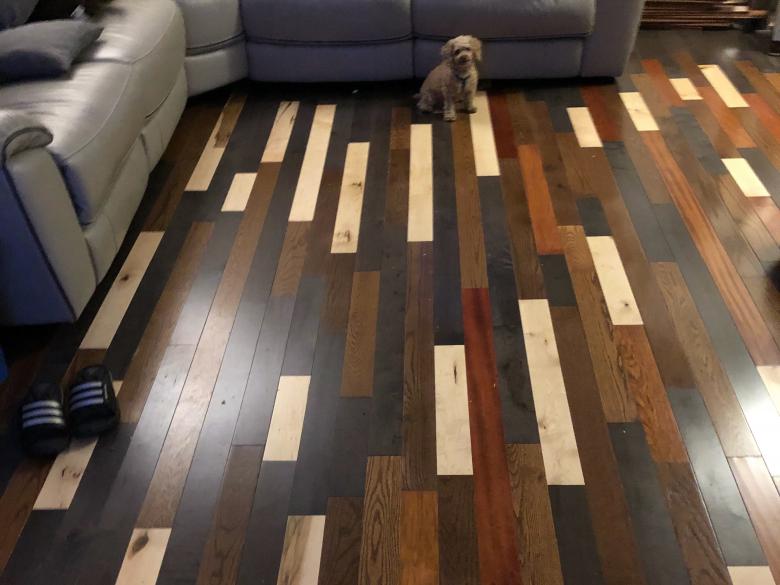 "My wife saw a multi-color floor on a stage and thought it was beautiful," Tom Amadio says, explaining the inspiration for their home's new flooring design. At least half of the hardwood for the project — a mix of cherry, maple, poplar, red oak and white oak — came from different trips to the Habitat Sault Ste. Marie ReStore in Ontario, Canada. "It ended up saving us roughly $4,000," he says of the effort. And the bespoke conversation-starting floor that now spans their living room, dining room and kitchen? Priceless.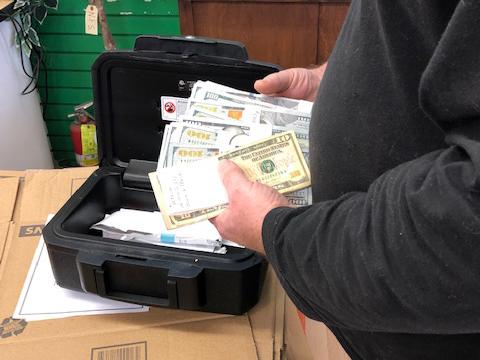 When Howard Kirby purchased a matching couch and ottoman from Saginaw-Shiawassee Habitat's ReStore in Owasso, Michigan, he was just looking to spruce up his man cave. But finding the ottoman a bit lumpy and uncomfortable, his daughter-in-law unzipped the cover to discover the culprit: $43,170 in cash stuffed into the cushion.
Although an attorney advised Howard that he had no legal obligation to return the money, he instead called the Owasso ReStore to track down the original owner.
Rick Merling, manager of the Owasso ReStore, found Kirby's decision inspirational. "To me, this is someone who, in spite of what they're going through, in spite of their own needs, has said, 'I'm just going to do the right thing,'" he told local news station WNEM.
It turns out that the furniture had come from a woman who had donated her grandfather's couch after he had passed. She was shocked to learn of the stowed away cash, recalls Merling. Howard met her at the ReStore and returned her late grandfather's savings. Now no longer lumpy, the ottoman and couch stayed with him.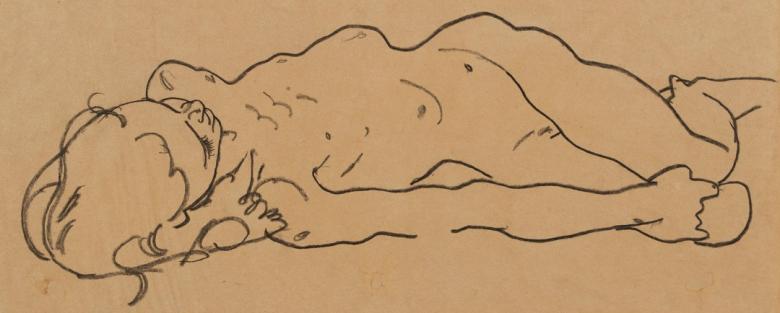 A line drawing purchased at the Habitat New York City ReStore for $80 turned out to be a previously unknown artwork by major 20th-century painter Egon Schiele worth between $100,000 and $200,000.
After discovering its historic value, the buyer, a ReStore regular who wishes to remain anonymous, sold the pencil drawing and donated a portion of the proceeds back to Habitat New York City.
"I can't help but think that were it not for the Habitat NYC ReStore, this piece of art history might have ended up in a landfill, lost forever," Karen Haycox, CEO of Habitat New York City, told The Art Newspaper. "It has been given new life."
Antiquities and uniquities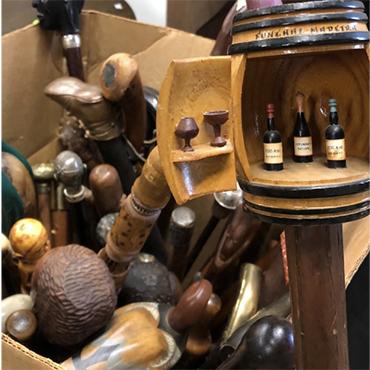 Habitat Anderson ReStore staff in South Carolina were surprised to find an unmarked box dropped off by an unknown donor that contained roughly 100 unique canes featuring a variety of wood and carvings, including this one of a wine barrel concealing intricate miniature wine bottles and glasses.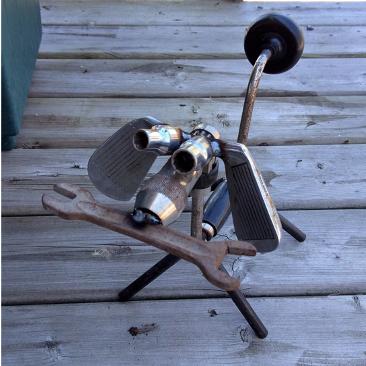 Jim Ward, a volunteer at Habitat South Georgian Bay's Collingwood ReStore in Ontario, Canada, is the creative mastermind behind this series of ReStore finds that have been upcycled into lamps, sculptures and more. Jim often donates his pieces to the ReStore's annual silent auction to help raise even more money for affordable housing.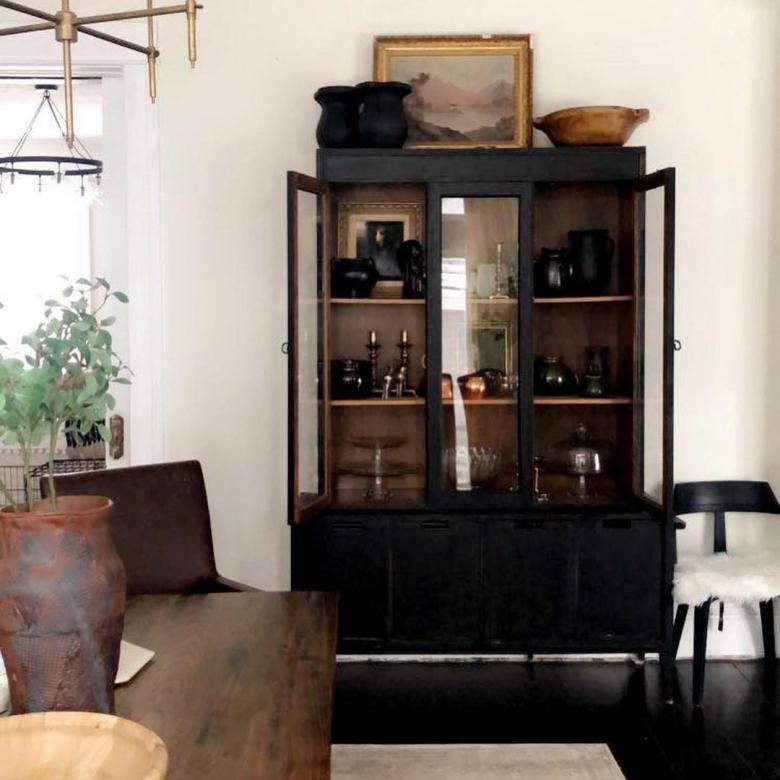 "I shop at the Sangamon County Habitat ReStore often. What I enjoy most is the thrill of never knowing what treasure I might find. Once, I found three pieces there — a glass cabinet and a hutch and sideboard. I put the glass cabinet together with the sideboard, painted it all black, sanded it and distressed it, but left the shelves natural. It's currently in my dining room, and most of the things it holds — a brass reindeer, brass candlesticks, copper tea kettle, gold-rimmed glasses, marble cheese board and glass punch bowl — are ones I've found at the ReStore."
— Elizabeth Kallembac, Springfield, Illinois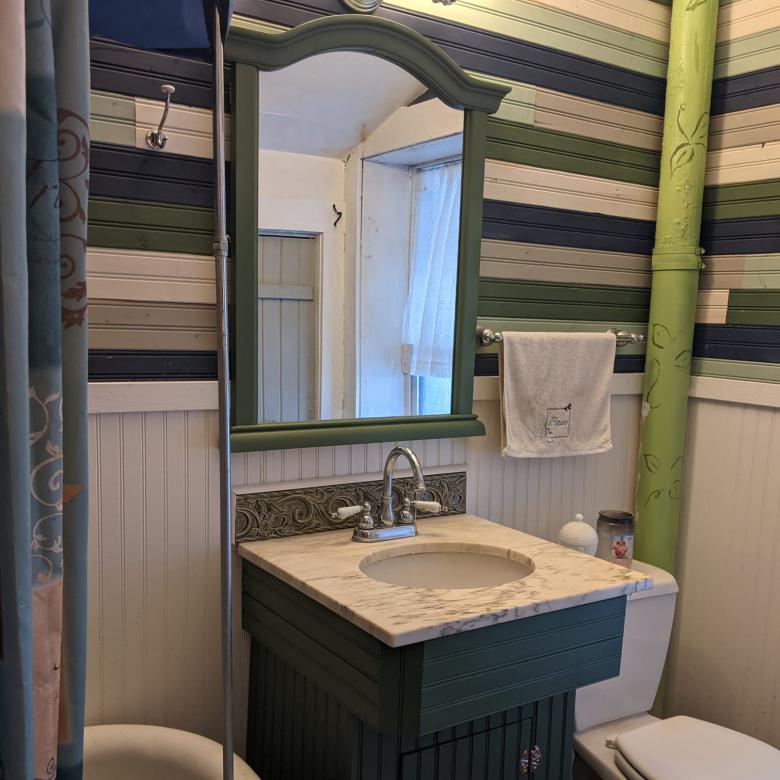 "I love reusing things and have been shopping at the ReStore since they opened here in Topeka. Heck, I drove to Lawrence, Kansas, before we had one in Topeka. I picked up the sink and countertop, the tile for the backsplash and light, and the shades in one trip and completely redid my bathroom with them. I love that I can find pieces that fit the time period of the old house I live in."
— Ron Lopez-Reese, Topeka, Kansas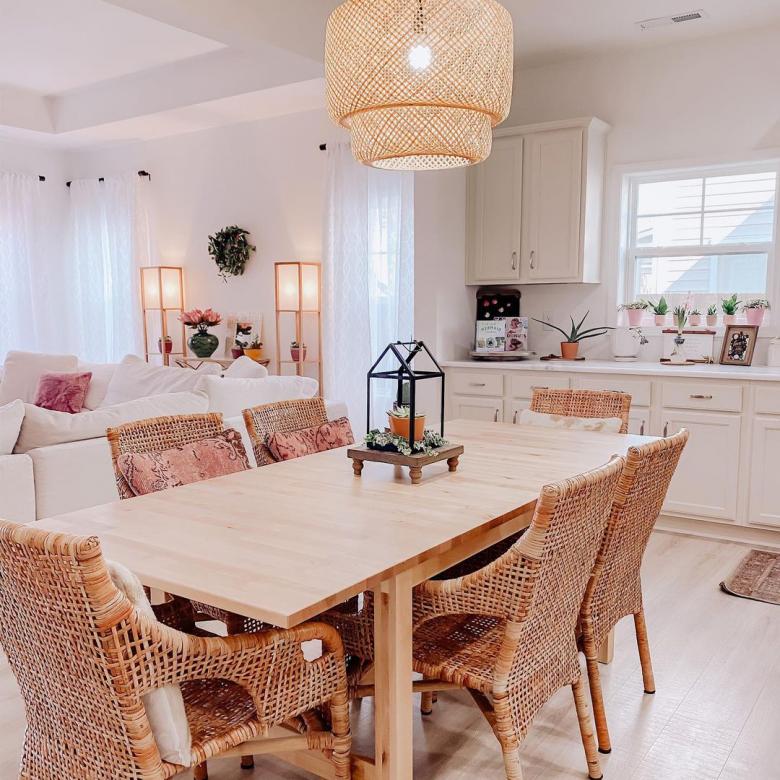 "I love thrifting in general, but I especially love how affordable the prices are at ReStore and the variety of items they offer. I would go to the Habitat Charlotte Region ReStore frequently just to browse and try to find something unique. When I saw these chairs, I had to have them! We eat every meal together as a family, so we sit on them for breakfast, lunch and dinner. We use them when we sit at the table and do puzzles together or art projects for school. We sit there when our family comes over to have a cup of tea and chat about life. They're at the center of our home."
— Sam Schuerman, Mooresville, North Carolina
From a vintage sideboard to a collection of hand-carved canes, you never know what fantastic find awaits you at the ReStore. With an ever-changing inventory based on local donations, it can be a surprise with every visit. But with every purchase supporting Habitat, no matter what you treasure you discover, you can be sure that you're making difference in your local community every time you donate and shop.