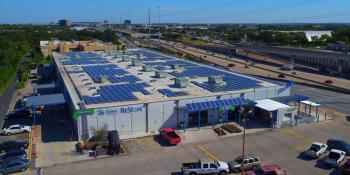 Celebrating 30 years of Habitat ReStore
In 1991, five volunteers opened Habitat for Humanity's first-ever ReStore in Winnipeg, Manitoba. Their vision was clear: keep new and used home and building materials out of the waste stream while helping fund Habitat's home-, hope- and community-building work. Customers came from all over to find deals on windows, doors, paint, hardware, tools, furniture, appliances and decor to spruce up their own homes while helping others build and secure theirs. Based on this reception, the concept quickly spread.
As of 2021, there are more than 1,000 ReStore locations across six countries, all contributing to Habitat's vision of a world where everyone has a decent place to live. Since most of the merchandise for sale in these stores is donated by local residents and businesses, no two ReStores are exactly alike — and neither are their beginnings.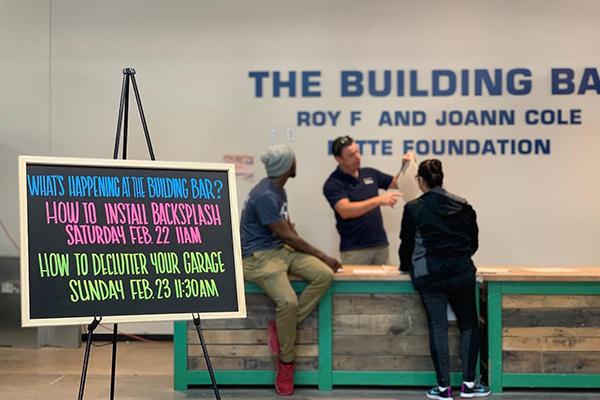 Austin, Texas
A year after the first store opened in Canada, Austin Habitat brought the ReStore to the U.S. with the opening of its first store in Austin, Texas, in 1992. While the store has kept more than 33 million pounds of goods out of landfills, one of the store's most sustainable endeavors has been the building itself.
In 2015, Austin Habitat converted a former pizzeria arcade into a space housing both their administrative offices and their ReStore operations. Austin Energy Green Building awarded it with a 4-star rating because the building reused 96% of the previous structure and features a 260-kilowatt solar array supporting 100% of the Austin ReStore's annual electricity usage.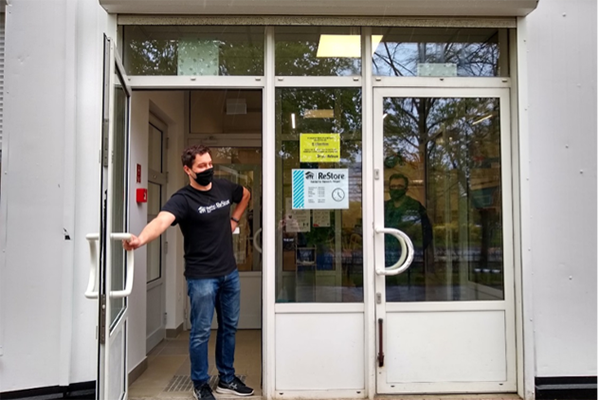 Warsaw, Poland
In March 2020, Habitat Poland opened their — and eastern Europe's — first ReStore in Warsaw. Within the first 12 months of operation, the store has saved more than 350 tons of products from the trash. Recently, staff began offering educational resources and activities about sustainable development — and Habitat's role in it — to children in area schools.
One of these resources, titled "Kazik's Couch, or A Fairy Tale About Responsible Consumption," focuses on the importance of helping by giving, sharing goods and respecting resources. The resources include materials for teachers, trainers and parents to guide young students through the story's themes.
Mechanicsville, Virginia
In 1991, the same year ReStore was getting its start in Canada, Hanover Habitat, now known as Hanover and King William Habitat, came onto the scene in Mechanicsville, Virginia. That year, Delois, a widowed seasonal farmhand, became the affiliate's first homeowner. Her new home had strong upright walls, indoor plumbing, a full roof and windows that closed — all features that her previous living arrangements lacked.
After 12 years safe and sound in that Habitat home, Delois passed away at age 73. With no descendants of her own, she arranged to leave the home to one of the most important entities in her life: Hanover and King William Habitat. A short biography by an unnamed Habitat volunteer noted that this had always been Delois' plan, even before construction on her house began. "She wants to make Habitat the beneficiary in her will," it reads. Her hope in doing so was that another family would be able to find a sense of safety and security, like she would, in their new home.
In 2005, Hanover and King William Habitat sold the home to another family and used the proceeds to start the Hanover ReStore. The store would provide a self-sustaining funding source for Habitat's work in and with the local community — and it has. As of 2021, Hanover ReStore has contributed more than $2.35 million to the mission of building decent and affordable homes. Delois' gift has helped 50 families move into new Habitat homes and 17 more improve their existing homes through a new critical repair program funded by revenue from the ReStore.
In the summer of 2021, nearly 30 years to the day of Delois' groundbreaking, Hanover Habitat expanded its service area to neighboring King William County — hence the name change — allowing them to partner with even more families in need of a decent, affordable home. "Through the ReStore and Hanover Habitat, her legacy will live on forever," says Amanda Gunter, director of community engagement for the affiliate.
A peek into the present
Communities, customers and ReStores across the globe are always finding new and impactful ways to partner to support Habitat's mission of bringing affordable housing to their neighborhoods.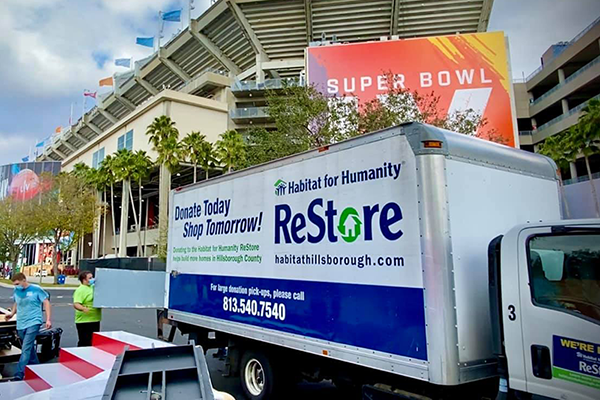 Tampa, Florida
In the months leading up to football championships, there's often a buzz of constant construction so the host city is ready to accommodate guests, players, media and more. But have you ever wondered what happens to all that stuff once it's over?
After Super Bowl LV in Tampa, CBS Sports donated the lumber from their dismantled risers, staging, stands and more to Habitat Hillsborough's ReStore so they could find a new use while financially supporting the creation of affordable housing in the local community.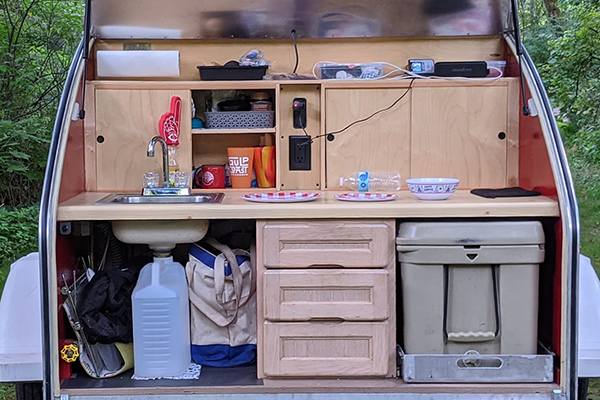 ReStore-hopping across the U.S.
Michael and Rebecca Roth have traveled the states over weeks-long vacations as well as weekend getaways in "Little Red," their teardrop camper outfitted with finds from ReStores. Michael's dad, Arnie, headed up the project. "He built everything from the frame to the interior, with several key pieces in the galley coming from the Habitat La Crosse Area ReStore in Wisconsin and Two Rivers Habitat's Rochester Area ReStore in Minnesota," says Rebecca.
The ReStore items — including a three-drawer bathroom cabinet that now serves as kitchen storage, the sink and countertops — helped keep costs for the renovation low, while contributing to a cause the whole family can get behind. "I've done a teacher build with Habitat in Tennessee, and my father-in-law and mother-in-law completed one in Nepal," Rebecca says. "Now, a lot of what they use for remodeling projects come from the ReStore."
Sacramento, California
"There is so much good stuff at the ReStore, but some people might not know how to repurpose it into something they can enjoy," says Dina Kupfer, reporter and anchor for Good Day Sacramento. That was the inspiration behind the creation of her morning Dina-I-Y segment.
In the segment, Dina and her team head to the Habitat Greater Sacramento ReStore, pick an item and, alongside ReStore staff, show people how they can make something fresh with it. "We've made so many things, but one of my favorites was making a succulent plant stand out of loose dresser drawers," she says. "We made those two years ago, and it's still in my garden now."
Not only has it been fun, she says, but it's also been incredibly rewarding. "Every time we do a segment in the morning, the ReStore gets a ton of people through their doors that afternoon," she says. "It's been great to see people embracing the ReStore, because not only does it give new purpose to these items, but it helps Habitat, our community and the people around us."
Habitat ReStore by the numbers
Since 1991, your support has allowed Habitat to partner with more families in more places to build and improve their homes — all while making our planet a cleaner, healthier place. With every purchase from the ReStore helping fund our building and revitalization projects, together we're moving closer to a world where everyone has a decent place to live.