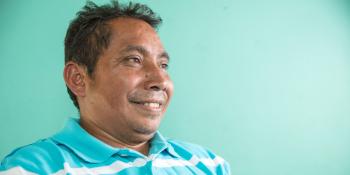 Advocacy efforts increase availability of affordable land in Honduras
Germán's story
In the early evenings, Germán sits on his front porch in Santa Cruz, Honduras. It is the perfect spot to reflect on all the good things that have come his way recently. His new burnt orange house sits at the top of a hill overlooking a valley and steep mountains. It is among the first to go up in a new development, the direct result of a local housing policy focused on increasing the availability of affordable land and homes.
Germán sees his grandsons, 10-year-old Jobeth and 6-year-old Josué, kicking a soccer ball and laughing it up with their new neighborhood friends. As is most often the case, Josué has on a straw hat, part of the costume of the folk art dance troupe he belongs to. The boys are happier here, Germán says, and that makes him happy. "My grandchildren are my life," says Germán, who is raising the children on his own. "They are everything. Everything."
Germán waves to his new neighbors walking by. He acknowledges that bringing up kids a second time around has been more taxing and is so grateful for the built-in support system that came with the house. The neighbors, whom Germán now calls friends, look after the boys when he is working at the mill grinding corn for tortillas and tamales. The boys prefer their cooking and are happy to go, Germán laughs.
Soon, there will be more neighbors to meet and more friends to make. Twenty-three homes have been built in the new development, with 32 more on the way. The boys can't wait for the new soccer field that should be going in soon. Neither can Germán, who played and coached a team for many years.
This development is a very big deal in Santa Cruz, where land is in high demand and short supply. Before, properties that came on the market were too expensive for Germán and most other families. Through the advocacy efforts of Habitat Honduras and other nonprofits, private businesses, community groups and public officials, the city of Santa Cruz has adopted a policy so that more families can afford decent homes.
"At Habitat, we build houses, but we all need to advocate for the cause of affordable housing and to combine efforts to contribute to the solution," says Habitat Honduras' Alberto Benítez Salem.
As part of the solution, the city sold land to Habitat Honduras, which is working alongside families to build the brightly painted homes with tin roofs. (Germán opted for the burnt orange over turquoise and deep gold.) The city and other partners are involved in providing roads, water and other services, as well as ways to keep down costs, including waiving building permit fees.
Germán had heard about plans for the development through word of mouth. Then one morning, while dropping Josué off at kindergarten, he saw a car with a Habitat logo and asked the driver for the address of the local office. The next day, he filled out an application and was approved a week later. He threw himself into earning his sweat equity hours, helping to build the cinderblock foundation. "It is everyone's dream to own a house in Honduras. I dreamed what it would be like," Germán says.
Now he knows. The two-bedroom house is more spacious than the place where he and the boys had been living. Although the mortgage is a little more, Germán says, the house offers something the rental did not: stability. He doesn't have to worry about rising rents or the whims of landlords.
He is more at peace than he's ever been. "I go outside in the evening with my little chair, and I just take a look around. I feel good. I feel so good."
So many families in Honduras — and around the world — face the same challenges that Germán is now overcoming. Your generous support is crucial to helping them gain access to the solutions they so desperately need. Join Habitat's Solid Ground campaign to learn more about this important work and take action today!