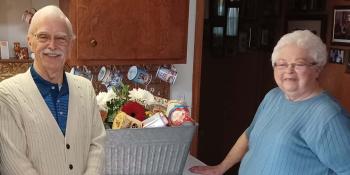 Aging in place with peace of mind
"We've been married for many, many, many, many years and have grown old together," Bryant says with a chuckle, sitting beside his wife, Rosalyn, in the living room of their longtime home. The octogenarian couple were born and raised in the Fitchburg, Wisconsin, area and have spent most of their adult lives in nearby Baraboo, owning their beloved home for decades. One winter, the couple found the basement siding on their beloved home deteriorating and became concerned.
Bryant knew the siding needed replacement, a job the U.S. Army veteran would usually do himself, but that presented a challenge now with Rosalyn's growing health care needs. "Though it's a simple job, it is rather laborious for one person to do. Habitat has an excellent reputation, so I gave them a call to see if I could get assistance on the repair, and things just worked out very well," Bryant says.
Partnering with Bryant and Rosalyn to make the needed improvements revealed other realities. "For me," says Morgan Pfaff, executive director of Habitat for Humanity Wisconsin River Area, "it was realizing that health was creating greater barriers than simply issues with insulation."
Partnering together, again
Habitat Wisconsin River Area's region has a large number of older adults and aging veterans. In 2018, the Centers for Disease Control and Prevention found Wisconsin to have the nation's highest average of deadly falls, more than half of those happening at home. The affiliate, already focusing on expanding their repair work, began to look for ways to grow their reach to include more local aging homeowners.
A few months after Bryant and Rosalyn's insulation repairs, Habitat Wisconsin River Area was selected to participate in a pilot study funded by a grant from the RRF Foundation for Aging. Habitat Wisconsin River Area partnered with a local health care service to do home evaluations for local older adults who wish to age at home.  
"The pilot allowed us to grow our repair work and specifically focus on aging in place. The home evaluation process taught us to better understand the needs of aging adults and what barriers might prevent them from remaining in their homes," Morgan says.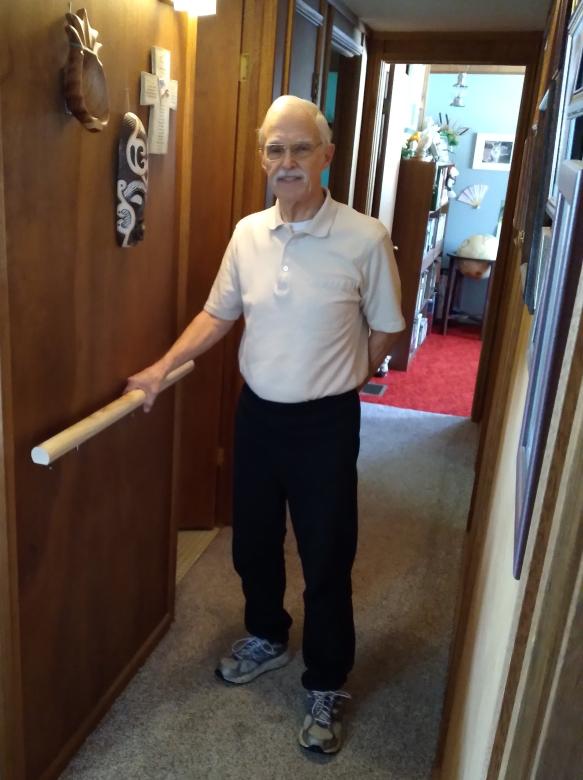 When considering local homeowners to partner with on the pilot study, Morgan immediately thought of Bryant and Rosalyn, who enthusiastically agreed to participate. "It was really helpful for us that we were able to start off with people we already had a relationship with. The pre- and post-assessment goes deep. It asks a lot of questions and requires openness and candor from the homeowners."
Little things that are game-changers
The RRF pilot study was done under the Housing Plus umbrella of work. As innovators of the Housing Plus model, Habitat uses a range of person-centered, holistic approaches that begin with the older adult's needs, then builds a tailored plan that incorporates home repairs and modifications as well as community resources, like health care and veteran support. Home evaluations are done with a housing expert from Habitat and a local medical services worker.
The success of the pilot allowed Habitat Wisconsin River Area to create a dedicated staff position to sustain this work.
"Coming at it with a Housing Plus approach, we're looking at the bigger picture," says Roy Mares, repairs manager. "We're looking at more than building a ramp and finding where to put grab bars. It's improving the home for better accessibility, but it's going beyond that. It's connecting people to resources that they can use in their lives. It's making their homes fit their lives instead of making their lives fit their house."
That's certainly been the case for Bryant and Rosalyn. The couple's home is equipped with well-placed modifications that help Rosalyn navigate the space, giving Bryant peace of mind as her caregiver. "It's improved the day-to-day. Taking a shower and having proper handrails in the tub. The handrail in the hallway for helping us steady ourselves," Bryant says. "They're little things, but they're game-changers when you get older."