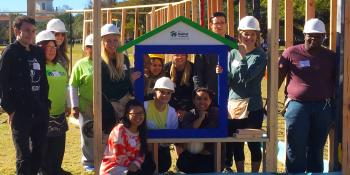 Benefits of community service for college students
High school and college campuses, with their energy and enthusiasm for community involvement, have a long history of being starting points for great ideas. The Habitat for Humanity campus chapter at Baylor University is one of those.
For 30 years, Baylor's campus chapter has supported Habitat's efforts by providing volunteers, advocacy, fundraising and education. As the very first campus chapter, Baylor Habitat ignited a spark that has led to the creation of hundreds more of these student-initiated, student-led groups across the country.
Chuck McDaniel, a professor of interdisciplinary studies, has served as adviser for Baylor's campus chapter for 15 years. Students have a desire to get off campus and have an impact in the communities of Waco, Texas, he says. The campus chapter allows college students to learn the benefits of community service, and see firsthand the need for affordable housing where they live. And they realize that Habitat is not about simply building a house; it's about changing a whole family's life for the better.
It is the students who are responsible for the chapter's success. "There's always a team of students who come in, very focused and driven to continue the legacy. They recognize Baylor is a special place," McDaniel says. "Each group of officers will convey to the next group how important it is that we are the first campus chapter. There's a sense of pride. Everybody wants to continue the tradition."
Lauren Guida, the current president of the Baylor campus chapter, agrees. "I think the biggest focus for us to maintain our presence on campus." The chapter works hard to draw the attention of students and faculty, she says. "And that there is such a great need in Waco for what Habitat does," she says.
The Baylor campus chapter tradition began three decades ago with a campus visit from Millard Fuller, Habitat's co-founder. His host was Gary Cook, who at the time served as Baylor's assistant chaplain and special assistant to the university's president. Cook asked Fuller what he thought about forming a Habitat chapter at Baylor and the idea took off from there.
Attracting capable hands to build with Habitat was one benefit to introducing students to the organization. Cook recognized another. "I thought if they got involved when they were younger, it would be something they would stay involved with for the rest of their lives."
Now chancellor of Dallas Baptist University, Cook continues to teach students about the benefits of service. "It's in serving that they're going to find their fulfillment."
Cook can look at the legacy he helped create and says, "It's very amazing, very fulfilling to know one idea really worked well."
Three decades later, the campus chapter continues to help change its community for the better by helping families achieve homeownership. It has been part of nearly all of the 169 homes built by Waco Habitat, which started the same year as the campus chapter.
"We have grown up together and served our community," says Brenda Shuttlesworth, Waco Habitat's executive director who also was a member of the campus chapter as an undergraduate.
"We miss Baylor when they are not in session because the campus chapter, they are such a vital part of our weekend volunteers — every single weekend on construction sites, neighborhood cleanups, over at the ReStore," she says.
"When I think about the Baylor campus chapter, No. 1, it makes me proud as an alumni of Baylor University that we can have this ongoing relationship in Waco," she adds. "And No. 2, it points me to the fact that students, many of whom have never had to worry about safe, decent, affordable housing are provided that exposure to the greater Waco community and can serve as ambassadors for affordable housing on campus."
And these ambassadorships will continue in the future, she says, as students graduate and go on to volunteer and advocate for affordable housing wherever life takes them.
With nearly 500 Habitat campus chapters around the United States, see if your school already has an active campus chapter or learn how to start one today!
Subscribe to our monthly newsletter
Get the latest news, volunteer opportunities, DIY tips and other ways to get involved with Habitat for Humanity.