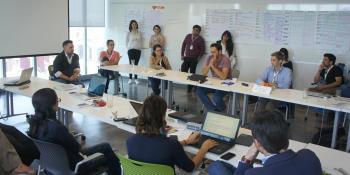 Bringing innovation to affordable housing
A device that provides solar-generated electricity to power houses in remote areas. A low-cost building material made from used toothpaste tubes and other recyclables. A wastewater treatment system for individual homes.
A group of emerging entrepreneurs from Mexico has been sharing and brainstorming about these and other innovations to deliver affordable homes, clean water and sustainable energy to families with low incomes.
The entrepreneurs recently gathered at ShelterTech Mexico 2017, an intense three-month business-training workshop hosted by Village Capital, a global entrepreneur support organization, and Habitat for Humanity's Terwilliger Center for Innovation in Shelter.
"The world's housing deficit is much too large for Habitat to build itself out of," says Patrick Kelley, the center's global senior director. "The Terwilliger Center for Innovation in Shelter is an initiative within Habitat to catalyze the private sector's responses to the need for affordable housing."
In Mexico, an estimated one in five families lacks safe housing and access to adequate water and energy. "Mexico's vast need for better housing requires bringing ingenuity and innovation," Kelley says. "The ShelterTech accelerator workshop brought together entrepreneurs to help cultivate their ideas and grow their plan for their companies."
The Terwilliger Center is working to improve housing markets for low-income households in Kenya, India, Peru and the Philippines as well, Kelley says, and will seek to identify and support local entrepreneurs.
In Mexico, entrepreneurs attending the ShelterTech workshop represented nine start-ups developing innovations in core home construction, energy, and water and sanitation. "We were excited to work with Habitat to create this program and make their first investment in the selected companies," says Ben Younkman, the program facilitator from Village Capital. He said that many non-governmental organizations "have historically seen 'private-sector' as a four-letter word. Habitat for Humanity is showing everyone a new way to achieve their traditional mission."
The workshop provided the entrepreneurs face time with business and legal experts as well as potential investors. The biggest benefit, the entrepreneurs say, has been the input and inspiration they received from each other.
"It is really cool and empowering to share each other's passions for making an impact. That is really like gasoline in our tank," says Yusef Jacobs, founder and CEO of Vitaluz, a company that offers consumers a solar-generated and affordable system to purchase electricity.
The entrepreneurs evaluated each other in a number of key areas. The two companies ranked as having the highest potential for success received a financial investment from the Terwilliger Center.
"These entrepreneurs, like many, have innovative ideas and new approaches to old problems," says Melva Y. Flores Dueñas, a member of Habitat's Mexico team and a contributor to the ShelterTech curriculum. "What they often lack is the investment capital that is willing to take the high risks of a start-up aiming to work with low-income populations." The $100,000 of capital the center has committed will help the two winners continue their business growth and hopefully attract other investors.
The Terwilliger Center launched with a generous commitment from former Trammel Crow Co. CEO J. Ronald Terwilliger. Other financial supporters to the work of the Terwilliger Center include MasterCard Foundation, Omidyar Network, USAID, Inter-American Development Bank, Citi Foundation, Swiss Agency for Development and Cooperation, The Hilti Foundation, IKEA Foundation and W.K. Kellogg Foundation.
Subscribe to our monthly newsletter
Get the latest news, volunteer opportunities, DIY tips and other ways to get involved with Habitat for Humanity.