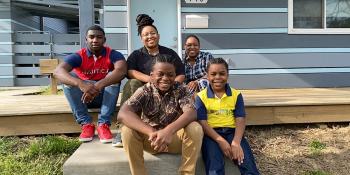 Building a home with heart
Star loves winding down with her family in their modern-style Habitat home after a busy day. Evenings are filled with joy and laughter when her son, 17-year-old Star'Shine; her fiancée, Jasmane; and her fiancée's two sons, 11-year-old DeAndre and 9-year-old Jayden gather together for family movie and game nights.
During the day, the boys often escape to the large front yard to play basketball or football – or any game that ends up with something "stuck on the roof," Star says with a laugh.
Star, who once worked as a union sheet metal worker, had been volunteering for Habitat for Humanity of Kansas City for two years when she decided to apply to become a Habitat homeowner herself.
"I love all of it," she says, recalling volunteering on builds. "Having that construction background, I was able to just jump in there like 'No, I got my own tools. I got this. Just tell me where you want me.'"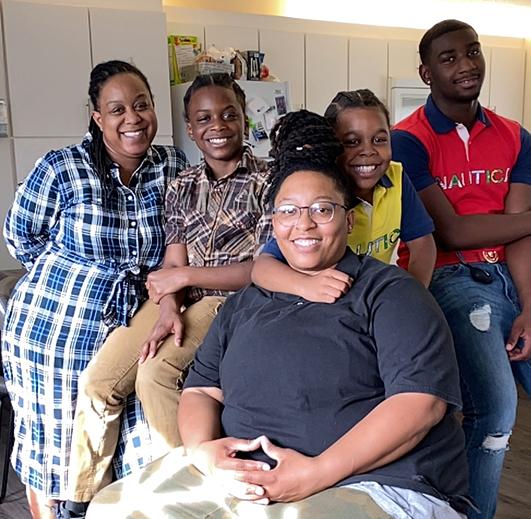 While volunteering leveraged Star's existing skills, as a future homeowner she was able to learn valuable new lessons about managing her budget through Habitat's financial education classes. "They teach you longevity of keeping your credit where it needs to be and building more," she says.
The learnings from those classes and being able to pay an affordable mortgage, half of what she once paid in rent, gave Star a strong foundation to start her own HVAC business. "I was able to step out on my own and buy tools as I went, if I didn't already have them, and just really step into entrepreneurial living and business ownership," she says.
Star's savings also went toward Star'Shine's education when the local school district lost its accreditation. "I was really, really worried about this," says Star. "I was blessed enough to be able to get my home the summer before he started freshman year. So, with the money that I saved, I was able to send my son to private school."
After completing the homeownership program, Star was inspired to get more involved with her local Habitat. "I sit on the Habitat Kansas City Pride Build committee," she says. "So I help ensure that the organization is able to be at all LGBTQ events, and folks can know about them and utilize them."
Star is no stranger to advocacy work. She founded her own nonprofit in 2016 to address service gaps experienced by the LGBTQ community in the Kansas City, Missouri, area, and she recently added a program to address housing needs. Star's early experiences fueled her passion for giving back. She experienced housing instability as a teen and into her early 20s and faced discrimination because of her sexual orientation when seeking help and services.
"It's like one of those things, right? When you come from a place of lived experience," says Star. "It has definitely guided me into doing the work that I do, and being able to know that I'm providing a solid foundation and something that I can pass down to my kid one day so that he knows that, 'You always have somewhere to go, and I'm going to accept you for who you are at the end of the day.'"
All of Star's hard work to provide a home where Star'Shine could thrive has paid off. He recently graduated from high school and will soon leave the nest and head for college. Meanwhile, Star is looking toward her next adventure, too. She and her family hope to purchase a multifamily property that will help ensure their financial security for the future while providing affordable housing to others.
"I want to be able to provide units for folks that are not price gouged, and people that make livable wages can afford to live there," she says. Being a Habitat homeowner has helped create a pathway for Star to achieve this new dream. She says that her home has provided her with a launching pad to qualify for other opportunities to own, and now she knows she has what it takes to successfully maintain a home long-term.