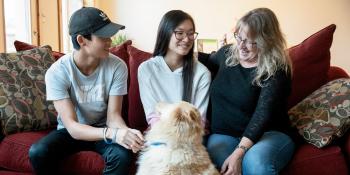 Coming back home with help from Habitat
It started with a single column of smoke. The stream of gray connected the floor of Rist Canyon with the wide Colorado sky. Three weeks later, the 2012 High Park fire finally extinguished after burning more than 87,000 acres of land, destroying more than 250 homes and claiming one life.
By the time Candace was allowed to return to her neighborhood, there was nothing left to salvage. Heaps of ash and bent metal marked where her house once stood. In the months that followed, Candace, her three children Chase, Jackson and Adele and their dog, Cooper, jumped from place to place, couch to couch. While the insurance process dragged on, Candace, a preschool teacher, continued to make mortgage payments on a home that didn't exist. "We were going to have to walk away from everything — from this place that we loved, our life here," she says.
Then, on Mother's Day 2013, almost a year after losing everything, Candace received a call from Fort Collins Habitat. She learned that she would be going home again — her community would be helping her build a new house on her land in the canyon. "It was the best Mother's Day gift I could ever get because it was the best gift I could give my kids," Candace says.
As construction began, crews of volunteers as well as friends and family joined Candace as she invested hundreds of sweat equity hours into the work. She was eager because, despite all that was lost in the fire, Candace felt like she was gaining so much more. An affordable mortgage that she would no longer struggle to cover. A newfound appreciation among her family for life and for each other. A community that caught her when she felt like her family was falling. The foundation of a stable and safe home to lift them back up as they started anew.
"They built more than our home," Candace says, sitting in the living room of her now-finished Habitat home. "They helped us rebuild our lives."