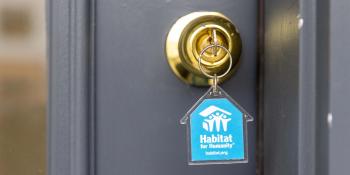 Closing the racial homeownership gap in the Twin Cities
Across the United States, the homeownership gap between Black and white households has steadily widened over the past two decades to create one of the starkest gaps since the 1960s, when race-based discrimination was legal. This is more prominent in Minnesota's Twin Cities than in any other metropolitan area, with the nation's largest Black and white homeownership gap at 51 percentage points — more than 20 percentage points above the national average.
Uncovering who Twin Cities Habitat serves
On the surface, Twin Cities Habitat for Humanity could have made a compelling case that they were adequately, even exceedingly, serving the area's Black community. Year after year, 85-90% of their homebuyers were people of color. Yet the starkness of the area's homeownership gap prompted them to dig deeper. Three years ago, the affiliate disaggregated their data to get a better understanding of the families they were serving and who they were "leaving on the sidelines," says Shereese Turner, Twin Cities Habitat's chief program officer.
The reality was startling. More than 60% of Twin Cities Habitat homebuyers were East and West African immigrants, largely hailing from Ethiopia, Somalia and Liberia. Those on the sidelines, representing just 5-7% of Habitat homeowners in the Twin Cities, were Foundational Black Americans, defined as Black descendants of enslaved Africans. For these individuals, generations of systemic exclusion through harmful practices — redlining, predatory lending and inequitable access — have led to markedly different experiences than that of their Black immigrant neighbors.
A pattern of housing exclusion
One of the longstanding discriminatory practices in the Twin Cities, and elsewhere, is the prevalence of racial covenants, which are clauses attached to property deeds excluding non-white people from buying land. When a team of University of Minnesota researchers leading a Mapping Prejudice project joined a Twin Cities Habitat board meeting, they revealed that even some of the organization's board members owned homes that had these now non-binding covenants.
Robyn Bipes-Timm, chief strategy officer at Twin Cities Habitat, says this was an "illuminating" exercise that brought closing the homeownership gap to a more personal level. "We were complicit at a minimum in creating this racist housing system," Robyn says. "We now need to be as deliberate in fixing it as we were complicit in creating it."
Twin Cities Habitat uncovering exactly which families were closing on homes was the first step toward this deliberate commitment to closing the gap. In reviewing the disaggregated data, Habitat found that Foundational Black Americans were the least likely racial group to advance to homeownership despite putting forth the second most applications. Pa Lor, Twin Cities Habitat's homeowner development manager, says Foundation Black Americans face many financial barriers to homeownership, including high debt-to-income ratios, modest savings and poor credit scores.
Though financial barriers present a sizable hurdle to homeownership, they fail to capture the full story. Twin Cities Habitat called on the expertise of Dr. Brittany Lewis of Research in Action to help garner a better understanding of the experiences Foundational Black Americans face when progressing through Twin Cities Habitat's homeownership program.
Strategic steps toward closing the Black homeownership gap
The research found that families in the homeownership program wanted a more individualized journey that was tailored toward their life experiences, peers and coaches who looked like and represented them, and less stringent mortgage criteria. Twin Cities Habitat is responding to each of those findings in its new strategy, which seeks to increase the percentage of Foundational Black homeowners being served to 25-30% by 2025.
To create a more personalized journey, the team is asking 40 Foundational Black families in their homeownership program to join a Black-coached cohort that will feature customized financial coaching. Twin Cities Habitat will leverage critical insights gleaned from the cohort to create a homeownership program that sets Foundational Black families up for success.
Turner points to representation in clients and the organization as a critical lever in addressing the gap. Habitat's financial coaching coordinators — Liberian, Hmong, Somali, Foundational Black American and a veteran — reflect the rich diversity of Minneapolis-St. Paul. "It's hard to be when you don't see," Shereese says. "So that representation is critical."
Twin Cities Habitat is actively exploring options to create a special purpose credit program, which would enable them to build a program "designed to meet the financial barriers of a certain group of people," Robyn says. They hope this will open doors to customized financial coaching, tailored mortgage products and more flexible credit overlays for Foundational Black families.
These combined efforts will improve the homeowner conversion rate for Foundational Black applicants and thus move the Twin Cities area closer to achieving more equitable housing outcomes. There's a long way to go to close the 51-percentage point homeownership gap looming over Minneapolis-St. Paul, but Twin Cities Habitat's strategic, research-backed approach and energy toward advancing Black homeownership will move the needle in the right direction.
"It's not just talking about closing the gap. It's not just talking about racial diversity. It's not just talking about equity issues," Pa says. "We can't close the gap without changing ourselves and how we approach our work."