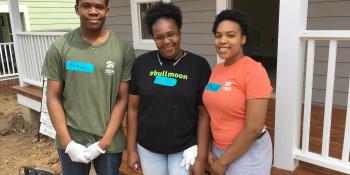 Commitment and persistence
Anita often skips dinner during the workweek, scurrying from her day job as head custodian of a middle school to her night one cleaning office buildings. The weekends don't offer much time, either, with even more offices to tackle and hours to put in on Habitat build sites painting and nailing. "If you want a house, you have to work hard for it," Anita says, "and, oh Lord, am I working hard."
Anita has been working hard for the opportunity to become a homeowner for a while now. She applied to Habitat three times but was turned down because of credit and debt issues. She thought about giving up more than once, but the promise of an affordable and good home for her family always prevailed. "And I want to have something that is mine," Anita says.
And so, she kept plugging away to get her financial house in order. At long last, Anita received a letter from Durham Habitat. "I was afraid to open it," Anita says. "When I finally did, I saw 'Welcome to Habitat for Humanity of Durham.' That's all I needed to see."
The months since have been even busier than usual for Anita and her children, 20-year-old Ayiana and 18-year-old Rashawn. The three have been working to complete the 300 hours of sweat equity that Durham Habitat requires future homeowners to earn building houses for other families.
"I've been painting, cleaning, putting in a few nails, cutting wood," Anita says. "I was terrified of the saw, but I figured out how to use it. I have had fun. It feels good to know that you are helping somebody else."
Anita got some help herself. She heads up a two-person custodial team at Mills Park Middle School, a 200,000-square-foot building with 1,800 students. When the staff there found out that Anita is required to cover the closing costs on her Habitat house, contributions started coming in, first from the school community, then from across the county.
"If you want a house, you have to work hard for it. And, oh Lord, am I working hard."
— Anita, future Habitat homeowner
"When she talks about having her own home, she is so excited. It is so touching," says John Warwick, assistant principal of Mills Park. "Our staff is so overjoyed for her."
Anita gets up at 4:30 a.m. to get to her job, then cleans office buildings after school lets out and generally finishes up her day well after 10 p.m. Still, she is always positive, Warwick says. "She is a great presence in the building," he says. "She shows the staff and students what hard work can achieve.'
In addition to the sweat equity and closing costs requirements, Anita also must take a HUD-certified course for first-time homeowners and at least three sessions with Durham Habitat's housing counselor to review areas including budgeting and planning personal goals.
The educational piece is important because many Habitat homeowners are the first in their families to buy a house. Some families have to apply more than once to meet Habitat's requirements.
"One of the things that we do really well here is work with families to explain to them why they are denied and refer them to local agencies that can help them get the help they need, whether that's cleaning up their credit or seeking employment," says Lakeisha Minor, a certified housing counselor who oversees Durham Habitat's homeownership program.
Minor is impressed with Anita's commitment — and persistence. "One of the things that I love is that when she is out on the worksite, she has those children out there, too," Minor says. "They are doing this as a family."
Anita's house will go up during Habitat's Home Builders Blitz, an annual event in which professional homebuilders and suppliers nationwide donate their time, energy and expertise to help families like Anita's have the opportunity to build a better life. "Can't get here fast enough," Anita says. "I just can't wait to get in my house and smell the freshness."