Discussing the importance of affordable homes in Tennessee
The Tennessee Housing Development Agency has long been a generous supporter of local Habitat for Humanity efforts in the Volunteer State. The agency, which makes homeownership possible for people of low-to-moderate incomes, is donating $1 million to sponsor the 2019 Jimmy & Rosalynn Carter Work Project.
"The work that Habitat does to make homeownership real for people who might have thought that would never happen is a really worthwhile thing to see and experience," says Ralph Perrey, the agency's executive director. Here he discusses the work of his agency and how it aligns with Habitat.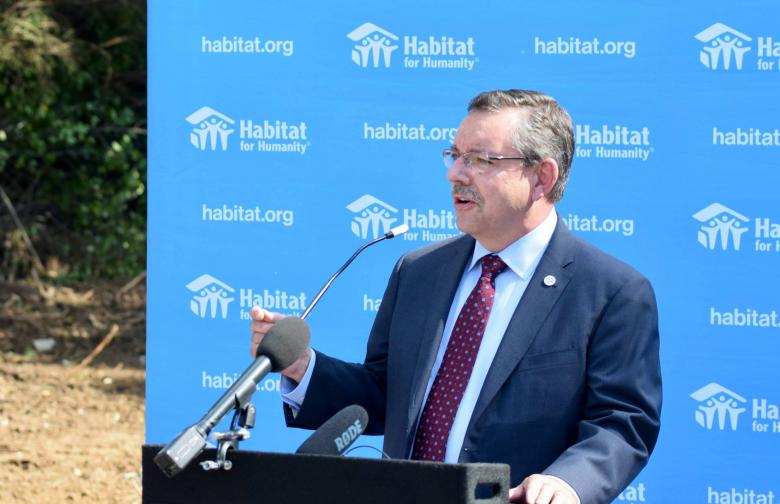 Q: How does the Tennessee Housing Development Agency work?
A: Primarily, we finance mortgages for first-time homebuyers of low-to-moderate incomes. The earnings from our portfolio pay for everything else we do — the mortgage products we have, the down payment assistance we offer. It also enables us to provide funding for important initiatives like our partnerships with Habitat in Tennessee and special opportunities like the Carter Work Project.
Q: Why is an affordable home important to a family?
A: A lot of the good things that we want for families and communities start with the foundation of a stable, safe, affordable place to live. A place you can count on laying your head at night. All sorts of research points to healthier outcomes for individuals, better performance in school for kids — just a whole environment of stability that makes a lot of other things in one's life work a lot better. That is why across all income strata there still is a hunger for homeownership.
Q: Talk about the need in Tennessee for affordable homes.
A: In Tennessee and almost everywhere in America, there is a shortage of housing that is affordable to the broad range of people whose work and presence are important in our neighborhoods and communities. Especially in recent years, most of what is being built is not built for the first-time homebuyer. This has been an important area of Habitat's work and one reason that we have been proud to support that work with ongoing grants.
In any community, particularly in fast-growing areas like Nashville, more people chasing fewer homes will drive up prices. The last number I saw from the Chamber of Commerce, 80 people a day move to the Nashville metropolitan statistical area — 80 people a day. They are all going to need someplace to live. Obviously, that has led to a lot of upward pressure on rents. If it costs more to rent, it is harder, for that young person especially, to save the money that they might need for a down payment. That first-time homebuyer, our focus, finds it harder to find homes in starter price ranges.
At some point, that would be a drag on any community's economic development activity. We need something more affordable both for rent and for the opportunity to purchase.
Q: What is your hope for the Carter Work Project?
A: When the week is done, we will have helped build a neighborhood. That development will be a catalyst for other affordable housing. While we are building houses, that helps build a stronger sense of community, certainly among those who get the opportunity to participate but also among a lot of people who see that kind of positive impact being done in the community.
Q: Why does your agency invest in Habitat?
A: When you see families making an investment of themselves, the effort they put into contributing to their home. When you see the transformation when they realize, "I can do this." When you see the satisfaction on the day someone hands them the keys to the home they helped build. When you see the impact on the volunteers who helped build that home. It is hard to come away from any home dedication and not feel pretty good.