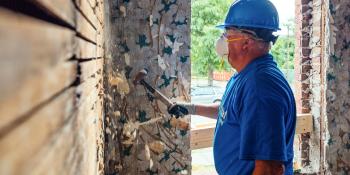 Donating critical supplies to front-line health care providers
In response to scarcity of respirators and other personal protective equipment for medical providers as they continue to battle COVID-19, Habitat affiliates across the country stepped up to donate much needed supplies to front-line responders. Inspired by their actions, Lowe's teamed up with Habitat to encourage even more donations.
Lowe's reimbursed Habitat affiliates $250,000 nationwide for donations of PPE made between March 15 and May 15. This ensures that these local organizations can remain stocked with supplies for upcoming builds and projects.
Construction staples like N95 respirators, typically used on construction sites to protect against sawdust and other debris, can also be used by medical professionals and patients to prevent the spread of germs.

This gift from Lowe's is part on an ongoing commitment that the company has made to communities impacted by the COVID-19 pandemic.  Learn more about Habitat's response to the crisis.