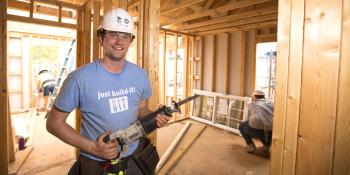 Habitat AmeriCorps profile: Colton Shaheen
As an aviation officer, Colton Shaheen had set his sights on a career in the U.S. Army. But after health issues scuttled that plan, the 25-year-old has found another way to soar — as an AmeriCorps member serving with Habitat for Humanity.
"I wake up in the morning and feel like I am doing something that makes a difference, even more so than in the military. I feel very valued and humbled," says Shaheen, who develops volunteer services for Habitat Coastal Fairfield County in Connecticut.
Shaheen's main responsibility is to improve the systems that identify local volunteers and enhance their experience so that they will continue to support the work of helping families achieve stable, affordable homes. Shaheen gets to use the leadership skills he honed in the Army.
While he still misses his Army buddies, Shaheen is making a lot of new friends. He joined more than 350 AmeriCorps and 75 alumni gathered at Habitat's 2018 AmeriCorps Build-a-Thon to help construct 12 new houses and work on 10 home preservation projects in Raleigh, North Carolina. Every year, the event brings AmeriCorps members together to call attention to the need for affordable housing.
"I'm having a great time though I've had to ask a ton of questions to make sure I'm doing things correctly, and I'm sore in muscles I didn't even know I had," Shaheen says.
"I was able to stay late on Monday to continue building into the evening. We were happily surprised to find that too many AmeriCorps members signed up to work extra hours. Where else would over a third of the volunteers choose to work until dark?"
Back in Connecticut, Shaheen has been struck by the disparity he sees every day. Fairfield County is home to the extremely affluent town of Greenwich as well as to areas on the other end of the income spectrum.
"Fairfield County has a really intense wealth gap," Shaheen says. In his view, Habitat serves as a vehicle to bridge those differences through homeownership and volunteer opportunities. "We're trying to build communities through building homes together."
Shaheen also is working with Habitat Coastal Fairfield County's push to serve more veterans, which is a challenge. "The veteran community can be a little reluctant to ask for help or to even want help," Shaheen says. "Getting people excited and into this program has been the most difficult part of the job, even for a veteran like myself. A lot of veterans view help as admitting defeat, and it certainly is not.
"I explain to people that at Habitat, we are a hand up, not a handout," Shaheen says. "That can make people more comfortable accepting the services that we offer."
He also can share his own experience of running into roadblocks. "I had a plan to rise up through the ranks of the military and retire in 20 years, but that was not meant to be," Shaheen says.
Still, he can't shake the feeling that maybe he landed just where he belongs. "In the past, I have not been a big believer in fate. This job has really felt like it was something that was meant to be."