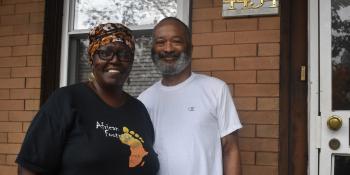 Habitat Repair Corps helps couple remain in their home
For Pat, the middle-of-the-night trips to the kitchen for a drink of water usually end with misty eyes.
"I turn on the light and feel myself getting teary," the 68-year-old retiree says. "The work that everyone did — it's just unbelievable. I wish everyone could see it."
The many transformations that come with home repairs 
Pat used to discourage people from coming to her house because she felt embarrassed by her old kitchen. The plaster on the ceiling was raining down. The floor was buckling, causing the carpet to peel up and creating a tripping hazard for her and her husband, Reginald. "My kitchen was in such a state that it didn't look clean no matter how much I cleaned it," Pat says. Now she can't wait to show off the renovation done through Habitat for Humanity's Repair Corps program with funding and volunteer support from The Home Depot Foundation in partnership with Habitat for Humanity Philadelphia.
For Reginald, the kitchen and other repairs made are about the future, about the opportunity to grow old how and where they want. "Our mindset is that we are not going anywhere, come rain or shine," Reginald says. "So, this is where our life plays out."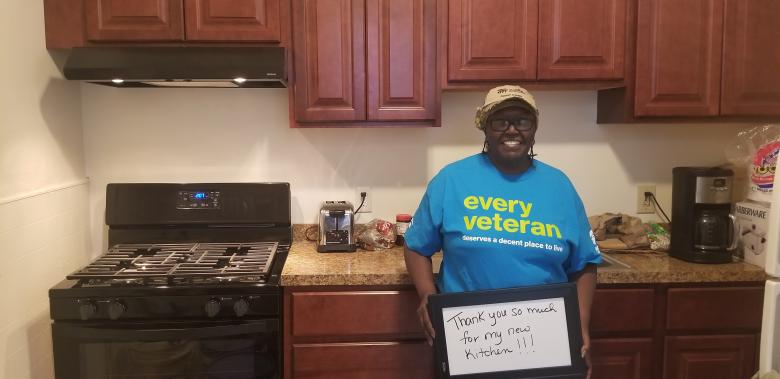 Growing their family and buying a home in the city they grew up in
Reginald and Pat's life together began when they were teenagers growing up in the same neighborhood in North Philly. At 17, during the height of Vietnam War, Reginald joined and spent the next decade in the U.S. Coast Guard. "My time in the military really changed me in the sense that it gave me view that while there are people in the world who want to do the wrong thing, there are so many people who want to do the right thing. And we saved lives," Reginald says. "Other than my family, enlisting was the best thing I ever did."
After Reginald and Pat married, they bought their 1900s-era brick rowhouse where they raised three daughters. "It has been a wonderful place to live," Pat says.
Before they retired, Reginald, a drug addiction counselor, and Pat, a mail carrier, were able to keep up with home repairs. "We were always pretty handy but as time went on, we got different ailments," Pat says. "And after you get on a certain budget, you just do what you absolutely have to do. Eventually, those other things catch up with you."
Local Home Depot volunteers join the family to help make critical repairs 
Since 2012, The Home Depot Foundation has donated $22 million to Habitat's Repair Corps program to build, repair or rehabilitate homes in partnership with U.S. military veterans and their families nationwide. The Home Depot's associate-led volunteers, Team Depot, lend a helping hand to homeowners by partnering with their local Habitat organizations.
In Philadelphia, the foundation and Habitat Philadelphia have helped Reginald and Pat take care of some of those "other things" — replacing windows, patching plaster, installing handrails and grab bars, upgrading some electrical units, and repairing the foundation on the outside of the house.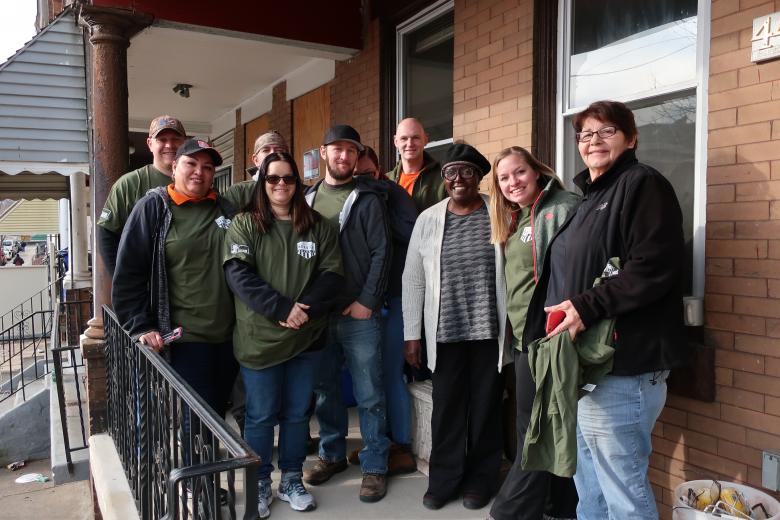 And then there is that new kitchen, the one that makes Pat both smile and tear up at the same time. "It is bright, and it feels clean," she says. "And the people who worked on my house — they were just a nice, nice group of people, every last one of them. They didn't know me, but they come in and are ready to do the work. It makes me feel special."
One of those people is Krista McKinstry, who manages the South Philadelphia Home Depot store. She and eight colleagues pitched in to help paint the interior of Pat and Reginald's house. "I couldn't have found two more optimistic, cheery people who were so grateful for the work we were doing," she says.
Krista has worked for The Home Depot for 17 years and serves as district community captain, which means that she collaborates with other stores to come up with ways for employees to give back to the community. While all the projects are meaningful, she says, she finds those involving veterans especially so. "Any chance I have to help those who served our country and put everything on the line for us, I take it," Krista says. "I can't think of a better way to say thank you than to do something to make life a little easier for them."