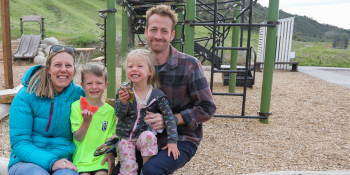 Helping essential workers build affordable places to call home
As an eighth-grade social studies teacher at Aspen Middle School, Lyssa loves her job. "I'm a teacher through and through," she says. Lyssa has lived and worked in the Colorado mountain community for more than a decade and never wanted to change her career. Faced with exorbitant housing and rental prices in the Roaring Fork Valley, however, she felt that staying there seemed impossible.
Lyssa had to consider what was manageable for her and her husband, Jeremy, and their two children, 6-year-old Arlo and 4-year-old Willa. And it wasn't just their family facing the prospect of leaving. Lyssa saw firsthand that a dire lack of affordable housing in the valley was the driving force behind the school district's challenge to recruit and retain teachers. "It's impossible to find any housing on a teacher salary," Lyssa says. "Our valley loses a lot of teachers because of housing."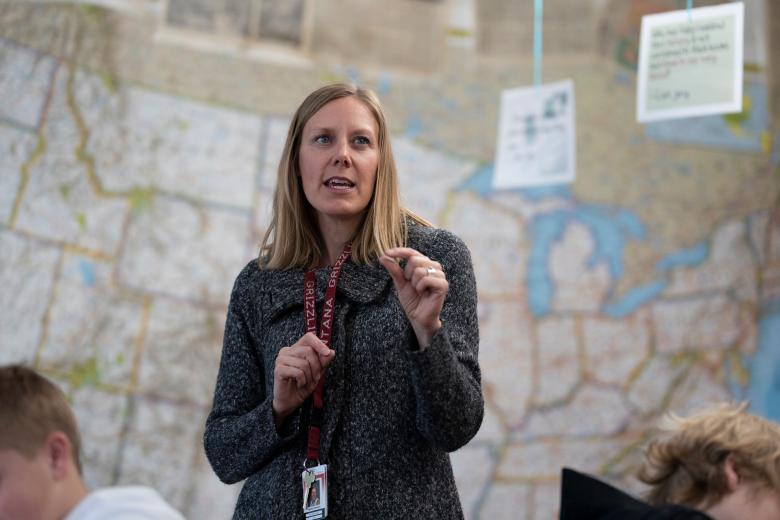 Lyssa hated the choice she faced: change her career or move to a more affordable area. Her young family lived in a two-bedroom rental apartment that was owned by the Aspen School District and offered to teachers at subsidized rents for up to five years. Their lease was soon ending, and their family was already outgrowing the small space.
If they moved away, they'd not only have to restart their lives, but they'd be leaving two critical jobs vacant. Jeremy works as an information technology professional for the Pitkin County government. Lyssa says county workers, much like teachers, are experiencing a "mass exodus" due to housing unaffordability.
Partnering for affordability
Lyssa and Jeremy feared they would need to leave the valley until they heard about Habitat for Humanity Roaring Fork Valley's new Basalt Vista neighborhood, a 27-home community devoted to bringing affordable homeownership opportunities to schoolteachers and county workers. Lyssa and Jeremy, who qualified for the program through Jeremy's Pitkin County job, perfectly fit the bill. In September 2020, the couple moved into Basalt Vista and exhaled with relief that they would be staying in the Roaring Fork Valley.
Habitat had forged key local partnerships to create the multifamily development. The Roaring Fork School District donated an estimated $3 million of land, and Pitkin County gave $4 million to go toward building costs. The partnerships opened doors for Habitat, the school district and the county to design a neighborhood where county workers and in-district teachers could thrive in the same community where they work.
Local companies Holy Cross Energy and Community Office for Resource Efficiency also made critical contributions to ensure the community was built with energy efficiency top of mind. The net-zero homes are equipped with solar panels, Energy Star appliances, electric vehicle charging stations, and an air-source heat pump which can efficiently heat or cool the house, says Gail Schwartz, Habitat Roaring Fork Valley president. As a result of these features, homeowners spend as little as US$14 a month on their electric bills.
"More rooted in the community"
Basalt Vista is set at the foothills of a beautiful, imposing mountain lined with biking and hiking trails. Across the street from the community sits Basalt High School, which makes for a quick commute for some of the teachers living in the new neighborhood.
All 27 of Basalt Vista's homes include a teacher or county worker in residence, creating a cheerful, energetic neighborhood that allows critical workers to live close to where they work and fosters togetherness. Arlo and Willa love playing outside with friends after school.
"It's a little community of teachers and county workers that are very grateful to be there," says Katie, a Spanish teacher at nearby Basalt Elementary School. The three-minute drive to Katie's school beats the hourlong commute along treacherous roads that she endured before moving to Basalt Vista. Beyond saving time and money on gas, she says living near her school allows her to feel "more rooted in the community."
Katie moved to Basalt Vista in February 2022 after 14 years of bouncing between different rentals in the area. Though affordable homeownership seemed elusive to the longtime teacher, she never wavered on her decision to teach. "Kids are way too important to me," she says.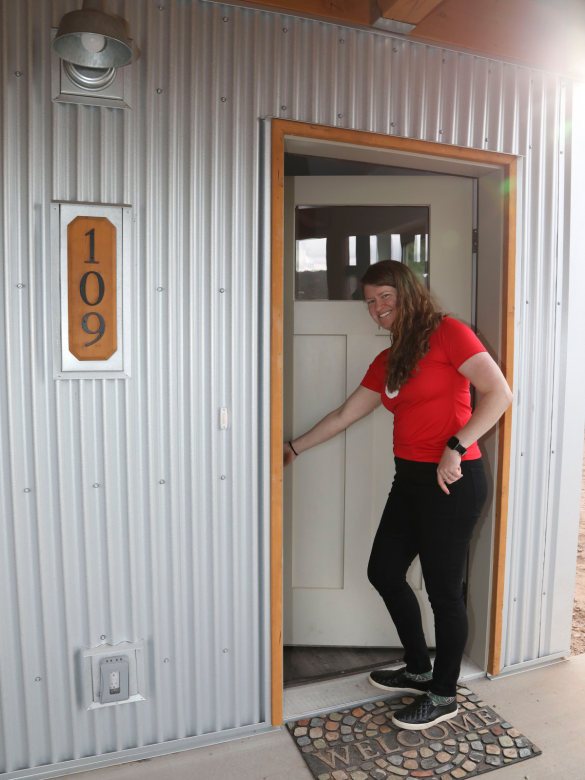 Helping essential workers stay and serve
An absence of affordable housing across the U.S. continues to threaten the livelihoods of essential workers like Lyssa and Jeremy and Katie. Through Basalt Vista, Habitat Roaring Fork Valley and partners have created a housing solution to help 27 families stay in the area and continue serving the community.
Katie often stands on her porch and reflects on becoming a homeowner. "My home is very important. It's my sanctuary," Katie says. "What does this house mean for me? It changed my life."
Learn more about Habitat's sustainable, community-focused approach to housing