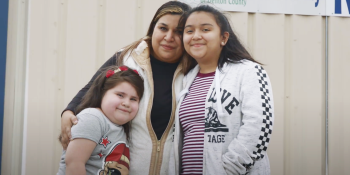 A home where hope blossoms
"This is going to be our last address," Dina says with a laugh of joy and relief. The mother of two has wanted nothing more than to provide a safe and stable home for her daughters, 11-year-old Gabby and 6-year-old Cecilia. Now that she's partnering with Habitat for Humanity of Denton County to build a home of her own, Dina's dreams are coming true. "Habitat is awesome and a blessing to open doors for families like us," she says.
The new home represents a bright and hopeful new beginning for Dina and her daughters. When her partner died, Dina feared that she would be unable to make ends meet on a single income and she would be forced to move her family. "I felt like it was going to be really hard for me to maintain that monthly payment on the lease," says Dina, who works at a middle school as a registrar. She also worried about needed repairs and safety concerns in her rental home, including low-hanging electrical wires in the backyard.
Dina's fears for the future began to fade when saw an advertisement for Habitat Denton County. "I saw an ad that said Habitat was opening applications for families that wanted to apply, and I went for it," she says.   
Building a brighter future
Once Dina was approved for Habitat's homeownership program, she was excited to complete her sweat-equity hours by working alongside other families and volunteers, and she's become a welcome presence while helping out at the local Habitat ReStore. "She'll do whatever it takes, whatever we need, and she does it with a huge smile on her face," says Lora Blakeslee Atkinson, executive director of Habitat Denton County.
Dina's new home will be twice the size of her rental home. Gabby and Cecilia will have their own rooms, and Dina will pay an affordable mortgage — less than what she currently pays in rent, allowing her to enroll her daughters in extracurricular activities. "The little one wants to do soccer, the other wants to join orchestra, and I'm going to be able to afford these things for them," says Dina.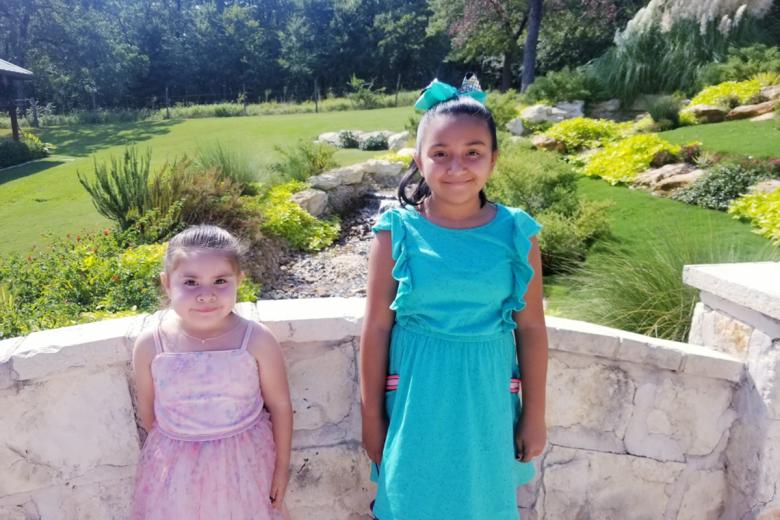 A grant from Wells Fargo Builds was integral to supporting the construction of Dina's home. "It was wonderful when they chose us for this round of funding," says Lora. "It really did make a difference on Dina's home and allows us to build because of their generosity."
"Everyone deserves a decent place to live, and housing stability is foundational for all humanity," says M. Isabel Barnes, a Wells Fargo commercial banking relationship manager who has volunteered with Habitat Denton County. "At Wells Fargo, we want to be able to create pathways for families to have access to affordable, safe and quality homes and be able to focus on what's important so our communities can grow and develop."
Little hands, big dreams
Gabby and Cecilia are making plans for their new rooms. "I took them yesterday to go see what we have done at the house so far," says Dina. "And they go, 'I want to put my bed this way, and I want to put my bookshelf right here.' It's just exciting to see them happy."  
Soon, the girls will also have a safe place to play where they can dream up new adventures, including building a fairy garden in the yard. "Every time we go to the store, they go to the garden section, and they find the little stones and find the little fairies," says Dina, who is looking forward to planting roses and vegetables.
The family of three will be moving into their new home in time to celebrate the holidays. Dina's already thinking about where a Christmas tree will go. "In the house where we are now, a Christmas tree doesn't fit. We tried to get a little one," says Dina. "I can't wait to have a Christmas tree, an actual Christmas tree, for the girls to have in the living room."