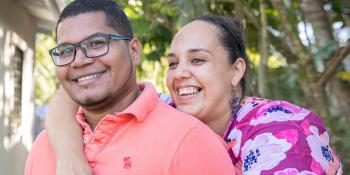 How cities keep homes affordable in Honduras
Meet Fanny and Fredy.
Fanny and Fredy knew that their cramped apartment was about to get even tighter once the new baby arrived. Then they found out that they were having twins. "The pregnancy was a surprise," Fanny says, "and when they told us there were two babies, that was another surprise. We needed a bigger space."
The couple is seated in the living room of their new turquoise Habitat house in Puerto Cortés, Honduras. The twins, Kennet and Breanne, now 3, are playing hide-and-seek with the lace kitchen curtains and chasing each other around a coconut tree in the front yard. Sixteen-year-old Isaac is keeping one eye on his little brother and sister, the other on his phone and the texts coming in from friends.
"Before, we were adrift," says Fanny, who describes their beautifully decorated house as a kind of anchor that keeps her family grounded. For Fredy, it is more like the glue that bonds them all together. "As the children grow up in a good environment, they will follow our example of owning their own home and keeping their families together," he says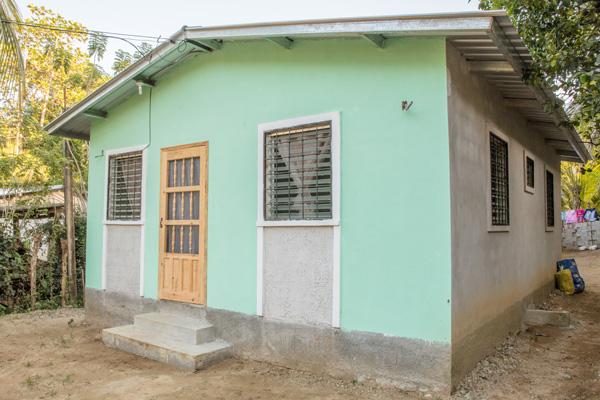 Strong and stable homes like this one help build strong and stable communities. This is the reason that Puerto Cortés was among the first cities in Honduras to join with Habitat Honduras and other partners to adopt a policy aimed at helping its citizens gain access to housing. The city works in any number of ways to help keep homes affordable, including donating land, offering families' financial assistance, putting in roads, and providing access to water and other services. The city also has agreements with Habitat Honduras, other nonprofits and private businesses to build houses and infrastructure.
Before the twins were born, Fanny, Fredy and Isaac were living in an apartment in Choloma, a city with many factories. Fredy works in one of the garment factories as a nightshift supervisor. Fanny worked in the garment industry, too, until the babies came along. "The apartment was very small and there was no yard," Fanny says. "We started pricing houses and 'Ouch!' They were way above what we could afford. We also didn't feel that Choloma was all that safe."
Fanny's parents live in Puerto Cortés, and their neighbors told Fanny about Habitat. "The city and Habitat have an agreement that benefits us a lot," Fanny says. The city waived the work permit fees and contributed sand and other building materials. Isaac helped with the construction so his family could earn sweat equity hours. "Just pouring the foundation is a big job," he says, showing off his muscles.
All of this change has taken some getting used to, Isaac says. Leaving his old school was tough, but he is making new friends and is looking forward, not back. "Someday, I want to own my own house," he says.
So many families in Honduras — and around the world — face the same challenges that Fanny and Fredy are now overcoming. Your generous support is crucial to helping them gain access to the solutions they so desperately need. Join Habitat's Solid Ground campaign to learn more about this important work and take action today!