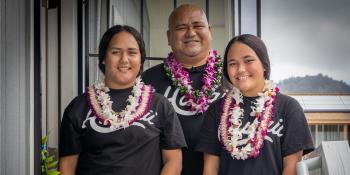 New home helps a family's legacy live on in Hawaii
Moses wasn't sure he heard the voice on the other end of the phone correctly. "Excuse me, can you repeat that?" he remembers asking. The family services coordinator for Honolulu Habitat for Humanity laughed and repeated: "Welcome to the Habitat family."
A U.S. Army National Guard veteran and father of four, Moses had dreamed of and worked toward this day for years. After his Habitat application was initially denied, Moses worked hard to improve his credit score and establish a better financial standing for his family. Part of his course of action was attending and absorbing the financial literacy seminars Habitat hosted in his community. "Every chance I had to go, I went — and I just kept on dreaming," Moses says. "The staff would be like, 'Haven't you been here before?' and I'd just say, 'Yep! I'm just dreaming a dream — but I'm getting better at it!'"
A growing crisis
Despite his persistence, Moses's dream of "having a better house than the one we were in" seemed always just out of reach. Situated on land that has been in his ohana – Hawaiian for family – for six generations, the 50-year-old two-bedroom home that Moses, his two sons and two daughters and, oftentimes, random friends and extended family shared was failing. "We had to use an umbrella inside during the rainy season, the stove didn't work, most of the outlets were too old to use, the floor collapsed under the shower," Moses says, listing off just some storm-ravaged home's issues. 
While a new place was impossible to afford, it was also difficult to justify spending his limited income on the growing list of necessary, costly home repairs when more immediate needs were constantly popping up. "I have to make sure there's food on the table, that the kids are clothed, that we have transportation," says Moses. Even with two jobs, he has found it difficult to make ends meet here on Hawaii's Oʻahu island, where the cost of living has soared.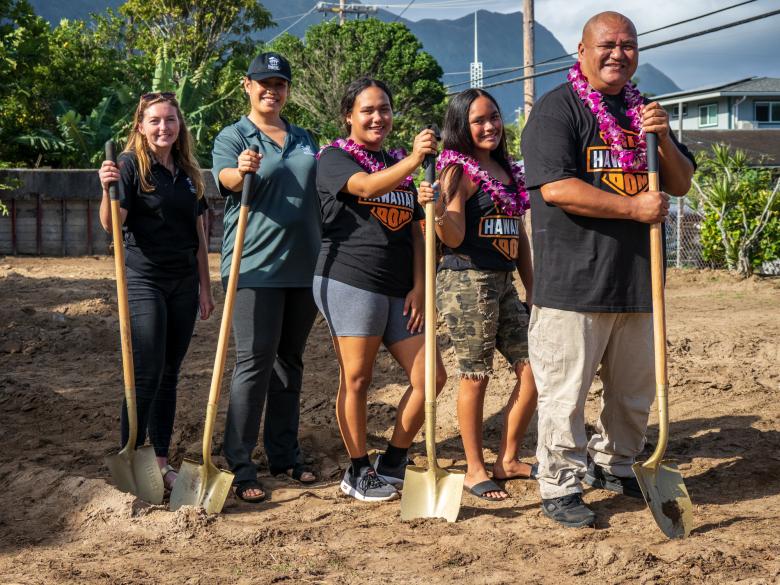 All households in Hawaii are up against these extremely high housing costs — but not equally. Native Hawaiians face greater levels of disadvantage than other Hawaiian residents, according to a 2017 report by the U.S. Department of Housing and Urban Development.
A history of systemic inequality within the economic, educational and social institutions of the U.S. has led to lower average education, higher unemployment and lower incomes among native populations, including in Hawaii. This disparity means the hurdles to affordable housing loom much larger — sometimes impossibly so — over Native Hawaiians compared to their non-Native counterparts.
And so, after years of struggling and exhausting available resources, when the acceptance call came from Honolulu Habitat and provided a pathway to affordable homeownership, Moses had a hard time believing it. "There are so many people in need. I was sure it was going to be the same sad song," he says.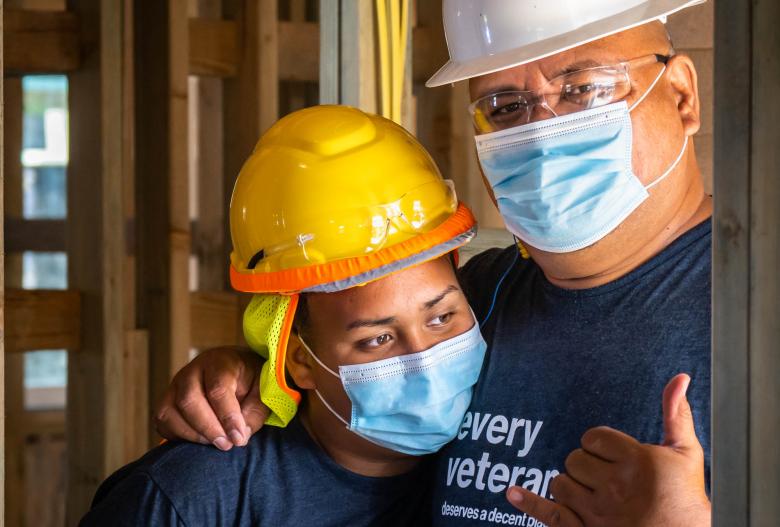 He was so sure that, initially, he thought he misheard it. By the second time, "Welcome to the Habitat family" was the only thing he could hear. Moses called the Habitat office back days later after the shock finally wore off to kindly ask them to repeat everything said after that opening line.
"I just remember seeing stars. I'm seeing glitter and gold, and I'm trying to grasp the reality that I just got accepted. I started crying tears of joy," says Moses. "This is something that you have to strive and work for, but I tell you, it still felt like I won a super lottery."
Building a legacy
Moses spent the next several months helping other families build their Habitat homes. Just like the financial literacy seminars, he jumped at the opportunity to attend build days at any and every opportunity — even after fulfilling his required hours. "The site supervisors were like, 'Really? You're here again? Aren't you done?'" recalls Moses. "I told them 'Nah, we're not done yet.' I found another mission: To help as much as I can when I can. God's work ain't done."
By the time of his home dedication ceremony, Moses had helped four other families complete construction on their homes, in addition to his own. "After we unpack and get settled in, I plan on getting back out there to help the next family," he says.
For now, he's basking in the new peace and comfort that his safe and strong home provides. "We actually have a working kitchen that we can use. We can do laundry here instead of traveling 25 minutes to the expensive 24-hour laundromat. We can offer our guests a bathroom. My girls can shower in their own homes now. Before, we had to cram together; we were never apart. But in this house, we have our own rooms and space," says Moses, the excitement building in his voice as he realizes just how fully the home will impact their day-to-day lives. "It will all be so much easier."
One of the biggest changes, he says, is in the intangible. With the home situated on the same parcel of land where generations of his ancestors had lived, it represents a future that is firmly rooted in family and in place. "This home represents security. It's a strong foundation for my kids to grow on," says Moses. "Every part of this journey — from dream to reality — has been for them, for their futures. Now the legacy will live on."