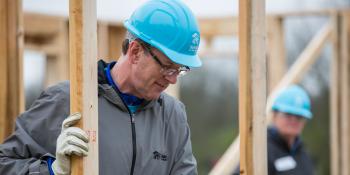 Opening doors to opportunity
There's nothing like the energy on a Habitat build site. The camaraderie. The hammering and wall raising. The knowledge that every task completed helps families move closer to their dream of owning a home.
My favorite build-site job is anything I get to do alongside one of those future homeowners. I love hearing their stories and getting to know them and their families. My absolute favorite thing, though, is the moment when they are handed the keys to the new home they helped build. Every dedication ceremony is a holy moment.
That was certainly true for Ashlee and Amanda, two hardworking moms from Nashville, Tennessee, who built their homes as part of this year's Home Is the Key campaign. I was thrilled to be among the volunteers who worked alongside them.
Both of them are so excited about what owning an affordable home will mean for their children. They know that the keys they now hold so proudly will unlock more than just their new front doors. "I think it will be great for my children's future," Ashlee says.
We know that she is right. Research supports strong connections between decent housing and the stability it creates with positive outcomes for a child's development, health and outlook.
Pediatrician and researcher Dr. Megan Sandel has studied the effects of housing on children for two decades. She has seen firsthand how housing affects children — and, in turn, how that affects all of our communities.
She compares an affordable, stable home to a vaccine and a basic building block of a better community. "It gives you resilience," she says. "Immunity against future threats."
That's what you help build when you build with us.
We are grateful for every hand that swings a hammer or holds a trowel, every voice that advocates for the cause of affordable housing and every share on social media that helps raise awareness. Our blessings abound.
We are delighted to recognize our newest Habitat Humanitarians Drew and Jonathan Scott. They believe in the benefits of decent, affordable housing and are tremendous ambassadors for our mission. They were among the volunteers who built alongside Ashlee and Amanda, and that build is just the latest effort in their history of helping Habitat.
With your support, imagine how much we can accomplish together! There are so many families out there who just need the hand up that we can provide. Your support makes everything we do possible; it makes a better, healthier future a reality for families like Ashlee's and Amanda's.
What action can you take today to help us reach that next family who so eagerly awaits those keys to their better future? How are you helping to create a Beloved Community with opportunity for all?
— Jonathan Reckford, Habitat for Humanity International CEO