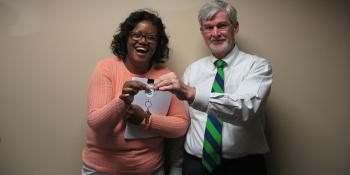 Realizing the dream of homeownership
Jim Jackson volunteers his time and legal expertise with Habitat Huron Valley and has helped 150 homeowners, including Crystal, realize their dream of owning their own home.
There's a moment of pure joy for a Habitat for Humanity homeowner that not many people get to see. It happens during the closing, when the homeowner signs that last sheet of paper and knows that their family will experience the safety and stability that a decent place to live can provide.
Jim Jackson has shared that joyous moment with more than 150 families. A practicing attorney, Jackson volunteers his time and expertise in real estate law to help guide Habitat Huron Valley homeowners through the house-buying process. He has drafted the documents for all home sales for Habitat Huron Valley since 2001, and the families he meets at each closing continue to move him.
"They are so happy," Jackson says. "That's one of the best parts of being a volunteer — seeing how happy the homeowners are when they become first-time homeowners. A lot of them finally having a yard of their own where their kids can safely play. A lot of the kids get their own rooms for the first time."
Habitat homeowners work so hard to get to the point of signing those papers. It's the end of a long process that includes hundreds of hours of sweat equity and education classes. So the closing is an emotional moment for them, and a big deal for Jackson, too. "They are pretty ecstatic, having gone through the process," he says, "and they are so happy to have a decent, safe home for themselves and their children.
On closing day, Jackson works with the new homeowner to make sure that they understand their responsibilities, Habitat Huron Valley's responsibilities and the purpose of each document. "At the closing, they don't sign anything until I've gone over it paragraph by paragraph," he says.
While Jackson gives his time primarily using his legal skills, he has also volunteered on build sites. Wielding a hammer might not be his strongest skill set, he says, but he still finds it rewarding to work alongside a homeowner whom he will see again on closing day.
Jackson knows what owning a home has meant to families throughout the years. It has an especially large impact for children, he says. "Things change when they have one school to go to, and they're not being bounced around," he says. "They're in a neighborhood. They're going to be in a safe school for the rest of their education, in the same school district.
"People who have been in their houses five, 10, 15 years still are as happy as they were the day they closed."
What skills can you contribute so that more families can have safe, decent places to call home? Find your local Habitat and learn about opportunities in other communities and around the world.
Please donate now
Families who partner with Habitat for Humanity are extremely grateful for your help.