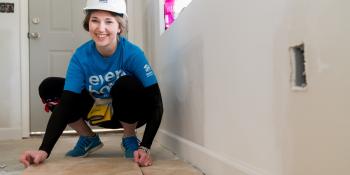 Service opportunities for teens
Whether you're in high school, college or on a gap year between the two, community service programs can play a powerful role in helping you find your passion and your voice while volunteering.
Encountering new ideas, people and places is critical to shaping your worldview and making connections with your peers and the world at large. Not to mention that developing talents, practicing teamwork skills and gaining real-world experience can enhance any college application or resume.
If you are a teen looking for community service ideas for a summer or long-term, consider one or more of these opportunities with Habitat for Humanity to improve yourself while improving the world around you.
Volunteer with your local Habitat
Many local Habitat affiliates offer volunteer opportunities for teens. Volunteering with your local Habitat is a great introduction to our vision of a world where everyone has a decent place to live. You can also make a direct impact on your community.
For example, young volunteers hold a special place in the heart and the work of Habitat Suffolk County in New York. "When young volunteers show up and they're fully engaged and they're willing to learn and they're excited about participating — those are the best volunteers that we get," says executive director Diane Burke.
Depending on your age, opportunities range from building houses to pricing recycled items in a ReStore to participating in neighborhood cleanups.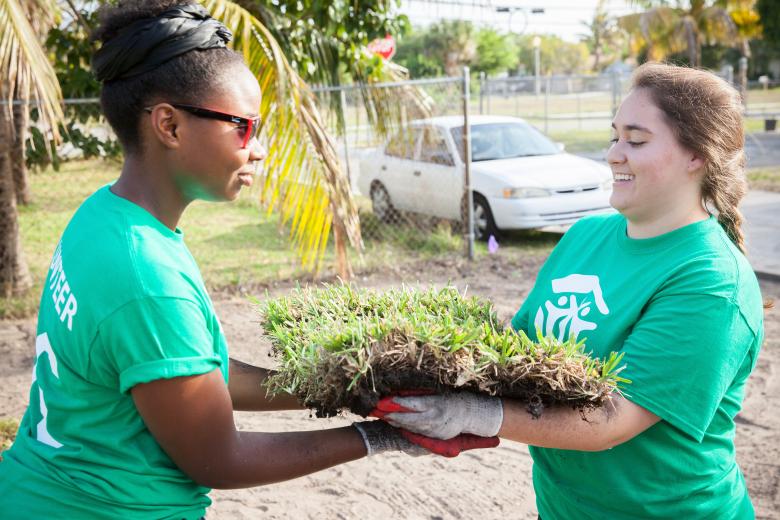 Global Village volunteer trips
Our work spans the globe, from Argentina to Zambia. By choosing to volunteer abroad through our Global Village trips, teens 16 years and older can join our international efforts while immersing themselves in new cultures.
Trip participants work alongside future homeowners and other volunteers in 40 countries. The work depends on the community and can vary from building or repairing houses to assisting in disaster recovery or energy-efficiency projects.
Longtime volunteer-turned-trip leader Christian Roose says his fondest Global Village memories are "seeing the smiles on the homeowners' faces, hearing the individual voices of the team form into one and feeling the love and everlasting friendship that has been shared and created."
View the schedule of upcoming Global Village trips.
AmeriCorps
AmeriCorps is a national program that engages members in intensive service at schools, public agencies, community and nonprofits such as Habitat. Members are paid a stipend.
Habitat AmeriCorps members have served on active build sites and in leadership roles for local Habitats and at our headquarters. Terms typically last for 10 to 12 months, making it a perfect fit for teens looking for gap year programs.
"My time in AmeriCorps has really reinforced that helping people is what I want to be doing," says Dylan Cahir, an AmeriCorps member with New York's Habitat of Nassau County.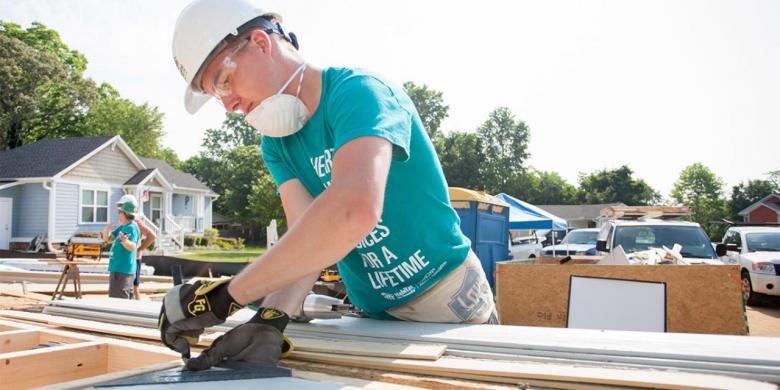 Campus chapters
Campus chapters are high school and college service clubs that partner with Habitat working locally. These grassroots groups volunteer, fundraise, advocate for systemic change and educate their fellow students on campus about the affordable housing crisis.
For Taylor Stone, getting involved with Catholic University's campus chapter changed her life's trajectory. "It was through Habitat that I found my passion for serving others," she says.
Find out if your school already has an active campus chapter or learn how to start one today.
Collegiate Challenge
Students 18 years and older can join the nearly 250,000 young people who have taken an alternative spring or fall break to help families build or repair a decent and affordable place to call home.
Come up with a group of five or more volunteers, a location you are interested in working and a one-week commitment, and Habitat will take it from there.
"This trip taught me and the other group members about the true meaning of 'service,'" says Katie Lehman of Taylor University in Indiana. "It was amazing to see people's willingness to dedicate their time to work for Habitat."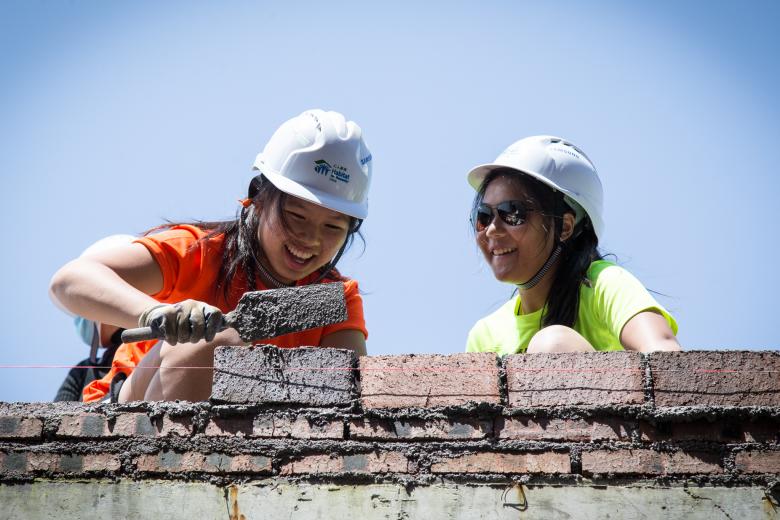 Long-term volunteering
Teens planning to take a gap year after high school may want to consider Habitat's long-term volunteer program, which offers hands-on, real-world experience in the U.S. and abroad.
For three to 12 months, volunteers 18 years and older can use their talents to build and repair homes, coordinate volunteers, work in communications and much more.
"Youth always bring high energy and excitement with them," says Anne Polesnak, volunteer coordinator for Habitat Wake County in North Carolina. "Their excitement energizes the whole staff and gives us a boost."