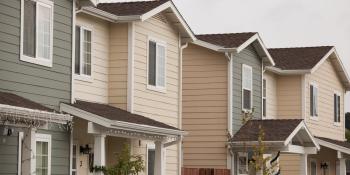 "Show up and stand in solidarity"
Kalima Rose serves as vice president for strategic initiatives at PolicyLink, a national research and advocacy organization that works to advance racial and economic inclusion.
She was a key player working with the U.S. Department of Housing and Urban Development in drafting and implementing the Affirmatively Furthering Fair Housing rule and has worked to advance inclusionary housing in cities across the country.
Habitat spoke to Kalima about the role that advocacy organizations like PolicyLink play in the fair housing debate 50 years after the Fair Housing Act.
Q: Tell us a little bit about how PolicyLink advances fair housing.
A: We do it by lifting up local leaders and policies and approaches that are solving some of our most challenging problems and helping move them into policy framework.
The underlying premise of healthy communities of opportunity is there's really nothing more predictive than zip code of what a family's life opportunities will be.
When you live in communities that are disinvested and do not have good connections to jobs or schools, people generally face significantly higher poverty and lack the chance to succeed out of that poverty within a generation. When you live in a healthy, thriving community of opportunity, you have more likelihood of reaching a healthy life and full potential.
We worked during the Obama administration with the Department of Housing and Urban Development to propose a new approach to fair housing. We went through a multiple-year effort to think about what you would want a community to be able to measure and how HUD could provide the tools to people so they could measure those things easily. Then we helped draft a framework.
We piloted with 74 cities and regions to see what worked in the framework, what needed improvement before going into the final rule that was developed. We provided technical assistance to the groups that were doing the pilot and tried to establish a network of peer learning so the cities and regions who had similar demographics and economies could talk to each other.
Q: How do you see the issues of housing affordability and fair housing or housing access linked?
A: African-American, Latino, Native American, and other racial and ethnic groups of color in America generally have much less wealth than white communities. Part of that has happened explicitly because of housing policy.
White people who got home loans after World War II in suburban developments have gone from being poor to building intergenerational wealth where they could help their children buy houses, et cetera. Because of racial covenants and redlining, communities of color have had much less of a wealth-building opportunity. They're more likely to be renters or spending more from their income.
When we break down the housing cost burden by race, we see that African-Americans and Latinos are much more housing cost-burdened than other populations.
What we see in high-cost cities is there are low vacancy rates and high job growth. People at the lower end of the housing market are getting pushed out of their housing. We're seeing a huge loss of African-American and Latino communities in our cities, and we're seeing a lot more people of color in the growing homeless population.
Q: How can supporters of Habitat support the cause of fair housing? What's the best way they can get involved in the fair housing fight?
A: Habitat often partners with other organizations that are working to move something at a local level, for example, a housing bond or a renter protection. It means a huge amount to show up and stand in solidarity with them. Show the amount of votes and support that housing security generates in their communities.