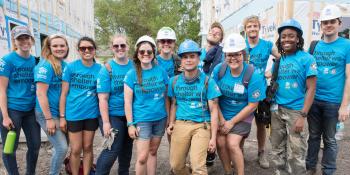 The fight for fair and affordable housing for all
On the 50th anniversary of the Fair Housing Act, Habitat for Humanity revisited the context of the act, its legacy, and the continuing need to address issues of housing access and affordability.
This collection of conversations represents just some of the voices still working today to help build a world of access, equality and opportunity for everyone — a world that represents what Dr. Martin Luther King Jr. called "the Beloved Community."
"As we mark this anniversary, we renew our pledge to make the concept of a Beloved Community a reality," says Habitat CEO Jonathan Reckford. "This will never be a world of equality, of fairness, of human decency that leaves no room for poverty or prejudice or violence, unless we build it. And so we build."
You can join us by pledging to help build the Beloved Community today and by sharing these stories and joining the #BelovedCommunity conversation. Through shelter, we empower.